A Boone Halloween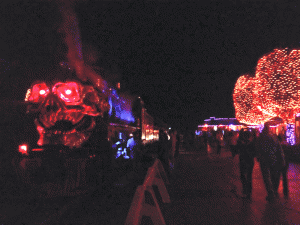 There are many Halloween activities around Boone for families and kids to do this year, but what about the students of Appalachian State University? There's plenty to do on and around this beautiful campus to get into the Halloween spirit.
Since Halloween weekend is Family Weekend at Appalachian, if you are looking for something to do with your younger siblings, the 14th annual Boone Boo will take place in downtown Boone. There will be plenty of arts and crafts and a kid-friendly haunted house.
If you are looking for another activity the whole family may enjoy, Tweetsie Railroad hosts its Ghost Train Halloween Festival every year. Tweetsie is open for this event through Nov. 1 from 7:30-11:30 p.m.
For anyone looking for something spookier to do, there is the Fright Nights Hillbilly Horror, which features a haunted trail and a zombie paintball fight.
It is located at the Honey Bear Campground in Boone and is open every weekend in October from 7:30-11 p.m. Admission to the haunted trail and the zombie paintball fight is $20 and $25 respectively.
If neither appeals to you, getting dressed in an awesome costume, inviting some friends over and having a costume party always works. Don't know how? No worries. Pinterest is full of crazy, festive food and decorations to make your party as frightening or as fun as you so desire.
If all else fails, a Halloween movie night is still a quality activity. Even if you don't plan to go out and do anything crazy, but instead stay in her dorm and have a monster movie marathon. Movies are always available via Netflix, Redbox or on television. Go grab some movies, popcorn, a blanket and get scaring yourself.
Story: Michaela Yount, Contributor
Photo: Laney Ruckstuhl, News Editor