For nearly three years, the Blowing Rock Art and History Museum, which is located in downtown Blowing Rock, has been home to more than just pictures on the wall.
The museum provides several opportunities for young people to get involved in art. Recently, BRAHM has been trying to reach out to Appalachian State University students, specifically by collaborating with the Turchin Center for the Visual Arts in downtown Boone.
BRAHM's curator Dianna Loughlin was a student at Appalachian and worked at TCVA before relocating to Blowing Rock.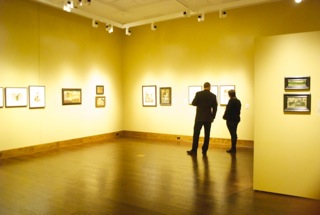 BRAHM borrowed a collection from TCVA called, "Ruined Landscapes: Paintings of the Balkan War Zone," a series of landscape paintings of the ruins from the Balkan War by Laura Buxton.
Buxton's collection was featured in BRAHM's winter exhibition. The winter exhibition celebration – an artist meet-and-greet event at the museum – was held Feb. 13 and marked the beginning one of three seasonal exhibitions the museum holds each year. The exhibition included selections from the BRAHM's unique collection consisting of more than 100 pieces.
The museum also holds frequent other meet-and-greet events, such as "Coffee with the Curator" sessions. A few are coming up soon; the next two will be Feb. 24 and March 24. These events are located at the museum and cost $6.
"The Turchin had funding from Hugh McColl [Jr.] to travel the exhibition so TCVA paid for the installation at BRAHM," said TCVA curator Mary Anne Redding. "We will continue to work with them in the future as opportunities arise."
Hugh McColl Jr. is the former Chairman and Chief Executive Officer of Bank of America, and became a fan of Buxton's work when her associate, Ben Long painted frescoes for St. Peter's Catholic Church and the Bank of America Corporate Center, both in Charlotte, according to a BRAHM press release.
In an additional effort to reach out to students – this time high school students – recent works of art by Watauga High School seniors were included in the Winter Exhibition upstairs in the "community art space," a free exhibition space in the museum.
"We also have art by the community that is on display all the time," Loughlin said. "This is actually a free exhibition space to students who are interested in displaying two-dimensional works of art or text panels on historic research they might be doing paired with picture."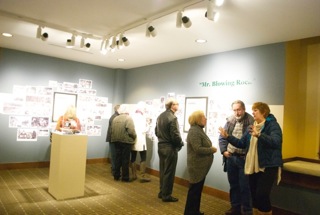 BRAHM is located in downtown Blowing Rock. For more information, visit its website at www.blowingrockmuseum.org.
Story: Katie Murawski, Intern A&E Reporter