Burst pipes in Finmore apartments causes flood, damage
Two roommates were in their hometowns for the holidays when they each received a call from a neighbor. It was a call no one wants to hear: their apartment had flooded.
On the night of Christmas Eve into Christmas Day, pipes burst at The Finmore, an off-campus student housing apartment complex, causing some residents' apartments to flood.
In a Dec. 25 email sent by The Finmore to residents, tenants were advised to check on their units as soon as possible for water damage. However, the email did not indicate which units were affected. Some residents were told which units were impacted Dec. 30.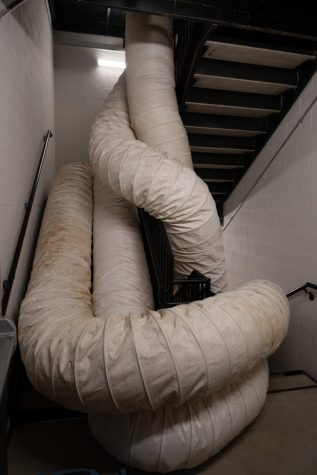 Roommates Will Terrell and Jake Keogh said their apartment was one of the units flooded. They said if it weren't for their neighbor notifying them, they wouldn't have known of the incident itself until the email was sent late in the day Dec. 25, and wouldn't have known their specific apartment was affected. 
"I would have just been at home chilling with my family, hanging out, having a good time, and then I would've saw this email and I would have been like 'Holy moly, that sucks. I wonder whose apartments got messed up,'" Keogh said. "Then I would've gone back like a week later, two weeks later, and then saw my entire apartment destroyed."
The Dec. 25 email also stated The Finmore's office would be available to answer any questions Dec. 26 from 10 a.m.-5 p.m. However, the two roommates could not get into contact with any staff that day.
Terrell, a senior sustainable technology major at App State, said he and his family drove back up to Boone to assess the damages Dec. 26. He said no staff was present even though they were told they would be in the email.
"No one showed up, no one answered any of our calls or any of our texts," Terrell said. "There was just no responses whatsoever."
Terrell, who has lived at The Finmore for almost a year, said he did receive some form of communication: emails stating his rent was due.
"On what planet am I going to pay rent for a place that I literally can't live at, when I can't even get a response on what I'm supposed to do?" Terrell said.
Keogh, who has lived at The Finmore for two years, also received emails about the rent, and he too said he felt he shouldn't have to pay. 
As of Dec. 31, the property manager, Maria Gallo, had yet to respond to Terrell and Keogh's questions or concerns.
Terrell said the only people who have been trying to handle the situation are residents who also work at The Finmore, and an insurance company.
Upon arriving to his unit, Terrell said this is what he saw:
Damaged walls.

Damaged floors.

4 to 5 inches of standing water.

Icicles forming in and outside of his room.

And all of his belongings "ruined."
Keogh, a junior geology major, said water was coming out of his speaker, guitar amp, guitar and Xbox system. His laptop was "ruined," there were water stains on the wall, water was built up on the couch and there was brown water in his bathtub.
Although he has insurance, Terrell estimates there are thousands of dollars in damages.
"Some of the stuff there is kind of irreplaceable," Terrell said. "I feel like if I had known exactly when it happened when it was going down, I could have at least salvaged some more stuff, but there was just no contact from The Finmore."
Terrell and Keogh were told their unit was one of the ones affected Dec. 30, almost a week after it had occurred.
"I knew that it was damaged, about three or four days before they even told me that it was damaged," Terrell said.
From the time of the incident until Jan. 3, Terrell and Keogh were left uncertain with what would become of their living situations for the spring semester. With the start of the new semester being only two weeks away, the roommates had questions but were given no clear responses. 
Keogh said he had left countless messages and emails and had checked to see if the front office staff was there every day. 
Keogh said he's frustrated, scared and anxious about everything because he has to balance school, work, a damaged apartment and ruined items.
Terrell said he received an email to the residents Jan. 3 stating that they would be placed in a hotel until the repairs would be done by February. He also said residents placed in hotels will still be responsible for paying rent. 
"I had a full kitchen and everything and now I'm just going to be living in, like, the La Quinta at best," Terrell said. 
In addition to the damages, Terrell said all the doors were left unlocked in his unit, and all the other doors in the hallway were as well. 
"Anybody could have been robbed during that situation, there was no security anywhere," Terrell said.
The roommates said in the past, they've both had issues of management not fulfilling its duties. 
"The only people you can get to ever respond to you are the student people who live in The Finmore that work for The Finmore," Terrell said. "And most of the time they're just kind of like, 'Oh we can't really help you with that.'"
Prior to the pipes bursting, Keogh and his girlfriend were at the apartment Dec. 23. 
During the night, Keogh said the emergency heat failed so they turned on the stove to get some warmth during the extreme cold weather. 
Keogh said he tried contacting maintenance the next morning for the heat issues but received no response. He said no one was at the front office, causing him and his girlfriend to go home Dec. 24 — hours before the pipes burst.
According to The Finmore's website, the rate of rent for a two-bedroom apartment at The Finmore is $1,049 or $1,099 per person. Terrell said given the situation and how it was handled, alongside the price of rent, he will be trying to find a new place to live after next semester.
Terrell said he believes the housing crisis in Boone "lets these managers and landlords just jack up the prices on places that don't deserve to get that much money in the slightest."
Finmore property management did not respond to multiple attempts to contact for comment by the time of publication.