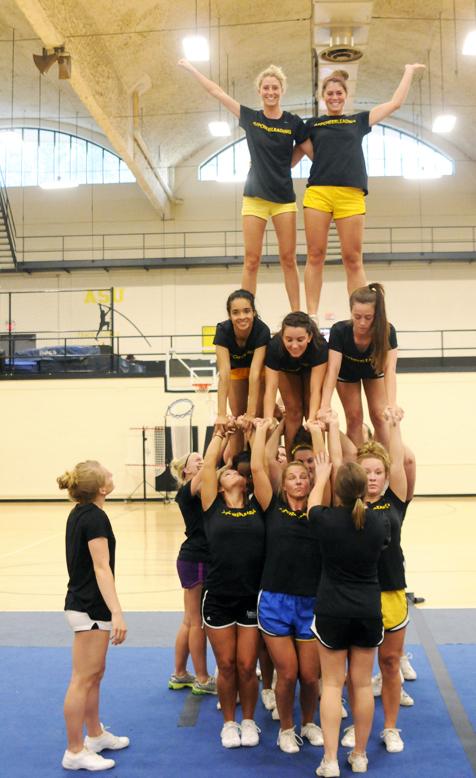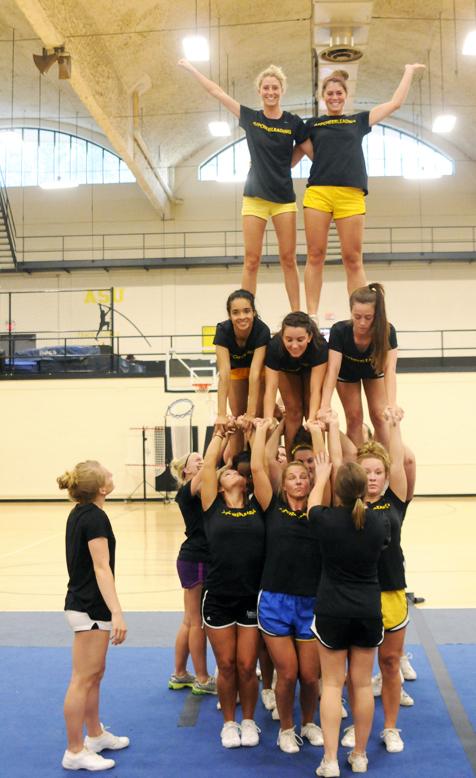 ASU currently has 18 varsity sports teams. Most of the time, these teams are practicing to win conference titles and beat opponents.
But there's one team who does the opposite.
ASU's cheerleading team works to pump the crowd up and cheer on the sports teams.
But the cheerleaders want to make something clear – they do more than just cheer.
"We really work hard," Senior cheerleader Jessica Posey said. "We don't just put our hair up, a bow in and smile. We're putting in a lot of work."
The team practices four to six times a week. This includes two 8 a.m. weightlifting sessions and two to three hour practices at night during the week.
"We're just like any other sports team," Senior cheerleader Ashley Harrell said. "We lift and we practice and we go to games all day. It's just very demanding."
Prior to any game, the team prays together.
"We pray before every game," Tracy said. "We never miss it, and if we do we lose. It's a known fact,"
For most of the team, the allure to cheer at football games is what piqued their interest in the sport.
"I think it was the football games," Strickland said. "I was never much of a competitive cheerleader but I liked being part of a team and I liked cheering at games."
The entire team cheers at away and football games, whereas the team splits up for basketball games.
"Away games are fun to travel to as a team with our smaller team, just because it's more bonding time," Harrell said.
But the team knows being a cheerleader is more than just cheering on their school's team during games.
"I'm an education major so I love meeting all the little girls who look up to us and having a positive influence on everybody," Posey said.
Senior cheerleader Kristina Tracy said the team wants to be active in the community.
"That just makes us closer as a team," Tracy said.
The cheerleaders perform Sept. 1st at Eastern Carolina at 12 p.m.
Story: KAITLYN THRUSTON, Intern Sports Reporter
Photo: CONOR MCCLURE, Intern Photographer