Hundreds of Appalachian State University students gathered Wednesday from 6 p.m. until 9 p.m. to celebrate the annual Chinese Moon Festival, which took place in the Plemmons Student Union's Parkway Ballroom.
The Chinese Moon Festival is a harvest festival celebrated throughout Asia and is brought to Appalachian by the Chinese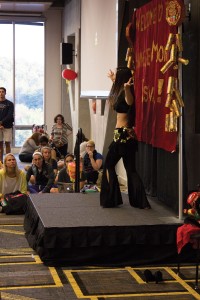 Culture Club and Appalachian Popular Programming Society's Cultural Awareness and Student Engagement Council.
The festival dates back thousands of years and is a time of gathering, feasting and moon worship in the form of moon cakes, said Lisa Myers, a senior appropriate technology major who has been president of the Chinese Culture Club since her sophomore year. While the traditions associated with the Chinese Moon Festival vary slightly from country to country, a few aspects are always certain – there will be food, and lots of it.
Terrie Do, a junior commercial photography major, has gone to the Chinese Moon Festival every year since enrolling at Appalachian. Do said this year seemed by far the most crowded, and even though she couldn't find a seat, there was certainly enough food to go around.
Over the course of the evening, the crowd was treated to a wide variety of entertaining acts, including Ear Candy and performances by both the Japanese and Korean Culture Clubs. Do said her favorite performance of the night was by the Hmong Society Club, which performed a lively cultural dance in traditional costumes, which ended in a loud round of applause.
"The costumes were authentic, along with their dance," Do said.
Myers said that even though they toned down the number of acts from around 11 to a more modest 7 or 8, the turnout for this year was extremely high. While this meant some scrambling for extra chairs, Myers said the event was successful overall in bringing the Appalachian community a little closer to Chinese culture.
Junior comparative politics major Sara Contreras said she thinks the global awareness brought by the festival was just as important as the food and entertainment.
"Appalachian students pride themselves on being Global Citizens," Myers said. "If we don't have events like this to understand at least a little bit about other cultures, then we can't really call ourselves Global Citizens anymore."
Story: Liz Flamming, Intern A&E Reporter