Colleges Against Cancer raises awareness for Relay for Life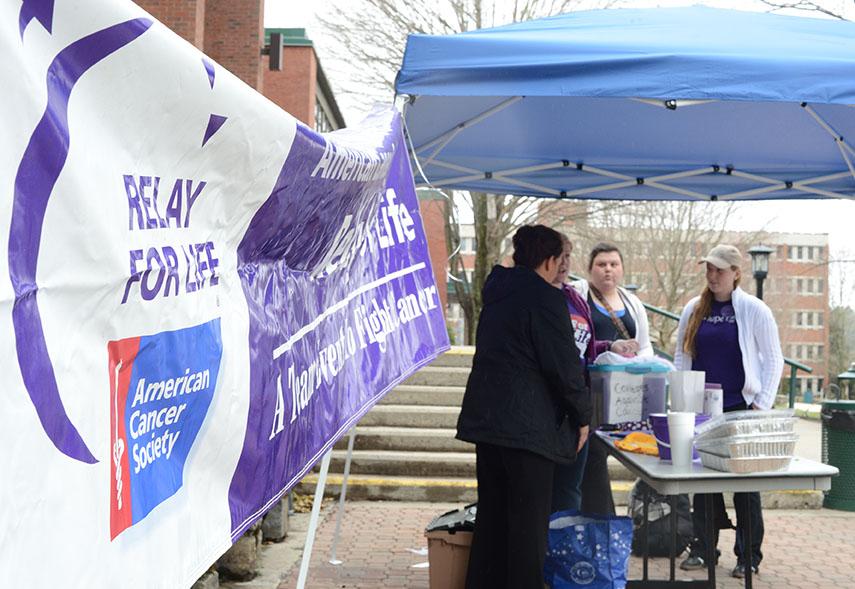 Appalachian State University's Colleges Against Cancer club "painted" Sanford Mall purple by dressing trees, statues and railings with purple table clothes Monday to raise awareness for Relay For Life, an event set for Friday
"We're trying to find that one dollar that will cure cancer," said Heather West, a sophomore communication studies major.
April showers didn't stop the club from setting up a booth outside of Plemmons Student Union and handing out free cupcakes and purple balloons to students from under a tent.
Club members stood outside the union from 11 a.m. to 3 p.m. handing out fliers, buttons and magnets as a reminder to fundraise for Relay For Life.
The club was not only raising awareness, but also receiving canned good donations to be distributed to Boone's Hospitality House and local food pantries.
"We're not only fighting cancer, we're fighting hunger as well," said Cassie Macleod, a senior family consumer science major and the club president.
The canned goods will also serve as a paperweight for the luminaries that will line the track and light up Duck Pond Field at Relay for Life.
Students may decorate a luminary bag for a $5 donation.
Students can purchase T-shirts, luminaries, volunteer and make donations either at a contact table that will be in the student union throughout the week or online at relayforlife.org.
Story: MICHELLE PIERCE, Intern News Reporter
Photo: OLIVIA WILKES, Senior Photographer