Craig Robinson and his band The Nasty Delicious performed at Holmes Convocation Center on Sunday night, kicking off the southeastern portion of his national comedy tour.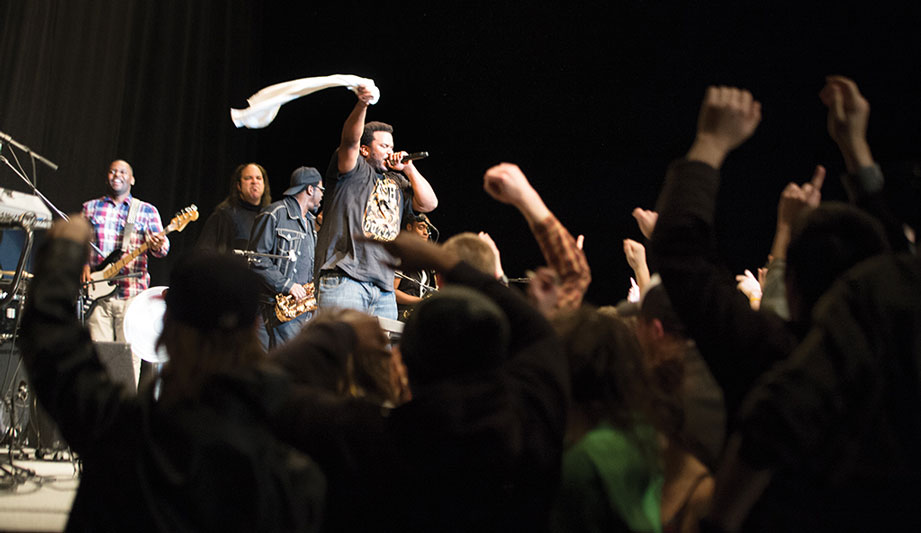 Robinson, best known for his role as Darryl Philbin in "The Office," began the night with an interactive comedy and music routine. The night progressed with music from the band and ended in a 20-minute dance party where attendees were encouraged to dance in front of the stage.
"What I hope for my show is to get people to party with us," Robinson said. "The floor is a dance floor, and I want App State to rock out. I want to make people feel really excited."
At least 1,540 people attended the event, Appalachian Popular Programming Society Adviser Randy Kelly said.
Sophomore accounting and health care management major Daniel Healy said he was pleasantly surprised by Robinson's performance.
"I was unaware of [Robinson's] multiple talents and thought he was just going to do stand-up," Healy said.
While attending Illinois State University, Robinson began his comedic career at The Second City improvisation enterprise in Chicago. Robinson said his interest in stand-up comedy was a spur of the moment occurrence.
"This career chose me," Robinson said. "I was in college, and I was very silly. I had a night manager job checking in kids in the building, and I would always be cracking jokes. I didn't realize I was doing bits until someone would come up to me and say, 'Craig, I'm always laughing at what you said the other day.'"
Before watching other students perform, Robinson did not consider performing stand-up comedy himself. Only after seeing the other university students did Robinson recognize comedy as an accessible career choice.
"I had always seen comedians in a sort of different light," Robinson said. "I would see them on the TV, but then some people I knew were doing comedy at the school, and when they performed, you could feel the aura and the energy from them."
For students interested in comedy and acting, Robinson said he suggests performing whenever and wherever you can.
"You have to go on stage despite of your fear," Robinson said. "That's how I wound up doing comedy in the first place. You have to do it even if you're afraid of it. You have to walk through that wall."
Story: Kelsey Hamm, Intern A&E Reporter
Photo: Olivia Wilkes, Senior Photographer