Rivalry between ASU and WCU has a twist this year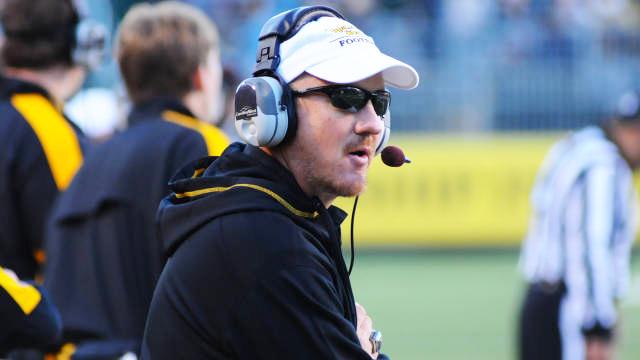 This year's annual Battle of the Old Mountain Jug will have a different feel this year.
Former Appalachian Assistant Coach Mark Speir will be patrolling the Western Carolina University sidelines instead of Appalachian's.
Spier coached for the Mountaineers for nine seasons, and had served as the team's recruiting coordinator since 2004.
Speir's familiar presence on the opposing sidelines, as well as several other former Appalachian coaches that joined his staff, just adds more fuel to the traditional rivalry between the schools, which dates back to 1932.
"Those are guys I've spent a lot of time with, and gone through a lot of battles with," Speir said. "It's kind of like a sibling rivalry. You don't want anyone else to mess with them, but in the backyard you want to beat your brother as bad you want to beat anybody."
Most recently, in 2011, Speir was on the Mountaineer staff as the inside linebacker coach and helped linebacker Jeremy Kimbrough achieve All-American honors.
"I've got a lot of respect for him," Kimbrough said. "He really helped me out in my development from last year. I'm proud of him to be able to get a job at Western."
Winning consistently at Western will be no easy feat. The Catamounts have had only one winning season the past ten years, and haven't beaten rival App since 2004.
But Speir is trying to emulate this success he had here in Boone.
"He's done a great job over there," ASU Head Coach Jerry Moore said. "They're probably the most improved team in this league from where they started back in August… he makes no bones about it, he's trying to do everything over there that we do here."
No matter what happens in the years to come between these two teams, the coachs' friendship remains unchanged.
"Scott Satterfield, Dale Jones — those guys are some of my best friends in the world," Speir said. "Coach Moore is a guy, that besides my dad, I don't respect a guy more on this planet and what he's done for my personal life."
Despite the respect, there's still a football game to play this weekend.
"I think they'll play like they're 7-1," Moore said. "Our games with them have always been knock down drag outs, and this one won't be any different I'm sure."
The game is set to kick off at 3:30 Saturday in Cullowhee.
Story: JORDAN DAVIS, Sports Reporter
Photo Courtesy GoAsu