Every February for the past 11 years, Appalachian and the Community Together has hosted the Dance Marathon, a 15-hour event that fundraises money for local non-profit organizations.
Last year, Dance Marathon raised a record-breaking $33,246.49. The proceeds were split evenly between Parent to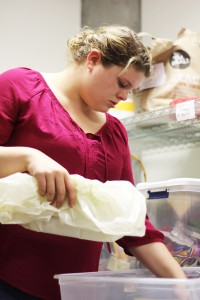 Parent Family Support Network and Western Youth Network, both of which work with local children.
As well as financially supporting P2P and WYN, Dance Marathon gives these families an opportunity to interact with each other and Appalachian students.  For many, the experience proves invaluable.
Parent to Parent Family Support Network
P2P is an organization that acts as a non-profit and provides information and support for families with children who have special needs. Special need, as defined by the P2P website, describes a child who has specialized medical, educational, and/or psychological care. In Watauga County, there are 775 children who fit this definition.
This organization provides their services for eight counties in Western North Carolina – Alleghany, Ashe, Avery, Mitchell, Watauga, Wilkes and Yancey counties.
All of the services provided by P2P come at no cost to the families, therefore creating more costs for the organization itself.
Last year, P2P received $16,623.24 from Dance Marathon.
Karen Hayes, director and coordinator of P2P said without Dance Marathon, P2P would not survive financially.
"It keeps our doors open," Hayes said. "It's a dream come true."
Hayes said Dance Marathon also assists them in other ways, such as providing an opportunity for the kids to break out of their shells and have fun. She said Appalachian students are great at encouraging the kids without being pushy.
"By the end of the night, the kids don't want to leave," Hayes said.
Western Youth Network
Western Youth Network is a non-profit organization that aims to serve children ages 6-17 in the community. They provide after-school, mentoring and summer camp programs.
"We are a youth-serving organization that, in a nutshell, we provide tools for youth to succeed," said Faith Motter, director of Development at WYN. "Growing up is hard, no matter what, and WYN is there to help you."
According to www.westernyouthnetwork.org, one of the main goals of the organization is to "reduce and delay the onset of early substance use and abuse."
Motter said the hours between 2:30-6 p.m., when parents are still at work, are the most high-risk time for teen pregnancies, underage drinking, and experimentation with drugs to occur.
The after-school program aims to prevent these issues, "by keeping them in a program where they're getting tutoring help – and they have free time where they can just play," Motter said.
Many of the families in the program don't have cars, which makes transportation to programs impossible. WYN wants every child to be able to partake in the after school programs. In order to remedy this problem, WYN provides their own transportation to and from their program sites.
"We pick children up at all the elementary schools in Watauga county, and drive them to two different after-school sites that we have," Motter said. "We drive all of the children home to their door every single night."
Transportation accounts for a large portion of their costs. Last year, they drove over 50,000 miles transporting kids to and from programs. This makes fundraisers like the Dance Marathon integral to WYN.
"Financially, it is the second largest fundraiser that we do every year," Motter said. "We would not exist as an organization if it wasn't for the support of the community. The ACT office has been amazing. It's good for the kids too because they see young, educated, college-age students who are doing something fun and exciting and a little bit crazy to benefit them."
Story: Clare McPherson, Intern News Reporter
Photo by Dalton Kilby, Intern Photographer