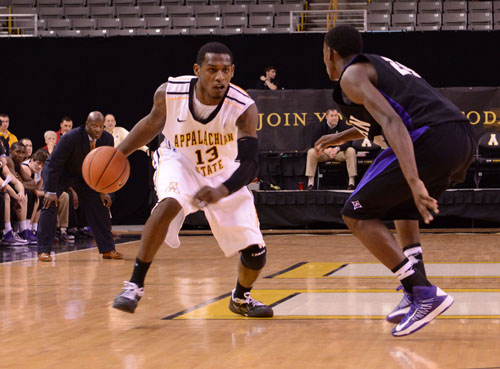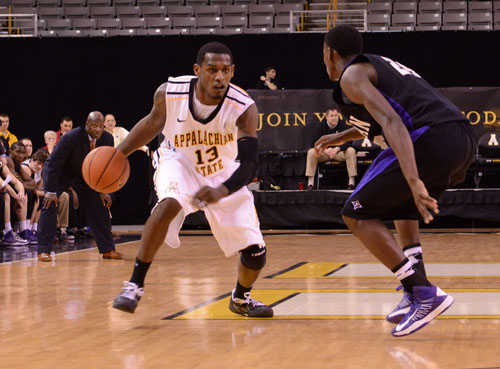 Appalachian State men's basketball team beat the Furman Paladins 72-66 Thursday at the Holmes Convocation Center.
Although giving up 20 points to Furman guard Stephen Croone, the Mountaineers' Michael Obacha, Nathan Healy, Jay Canty and Mike Neal all had 14 points.
"I think we did a good job sharing the basketball," Canty said in the news conference. "We were able to get to our spots and find open guys and everyone was hitting shots."
The Paladins (6-16, 3-8 SoCon) were forced to take an early timeout just one minute into the game after giving up two steals to Canty. He scored off both steals with an easy layup and a dunk.
Appalachian (10-13, 6-6) quickly took the lead 4-0.
At the first media timeout, Appalachian held a five-point lead and extended its lead to seven (15-8) by forcing six turnovers.
With four minutes remaining on the clock, Appalachian held a 16-point lead (34-18). Furman was able to close the gap on a 10-0 run during the last 3:57. Appalachian went into the locker room leading 34-28.
Neal led all scorers at the half with nine. Appalachian held Furman to 40.9 percent shooting and forced nine turnovers. App State shot 50 percent but had seven turnovers, according to goasu.com.
Both teams traded baskets the entire second half and Furman was able to pull within four points with 10:30 remaining.
App State battled hard, but Furman was able to pull within one possession (63-60) with 2:36 remaining.
"We let players get in the paint too much," Healy said. "We know we have to go up by 25 when we have an 18-point lead because that's what good teams do."
Furman guard Larry Wideman hit a 3-pointer to close the game within one point (64-63) and 1:13 left, but Canty came back..
Appalachian made key free throws down the stretch to close the game. Obacha helped the Mountaineers shoot 76 percent from the free-throw line, adding in a perfect 6-6.
The two teams had 12 turnovers but the Mountaineers had the advantage in rebounds, 35-to-31.""This team is still learning that when you have a team down you have to put them away," head coach Jason Capel said. "I'm very proud of our effort and how we finished the game off. They came ready to work with a business attitude and defend our home court."
The Mountaineers have played three games in five days and will continue the strenuous schedule Thursday at Elon.
by: JAMES ASHLEY, Sports Reporter
Photo: COURTNEY ROSKOS, Senior Photogrpher