Delta Zeta, Tau Kappa Epsilon announced as Greek Week winners
The fraternities and sororities of Appalachian State University concluded their Greek Week events with lip sync performances and the announcement of the week's competition winners  Monday night at the Holmes Convocation Center.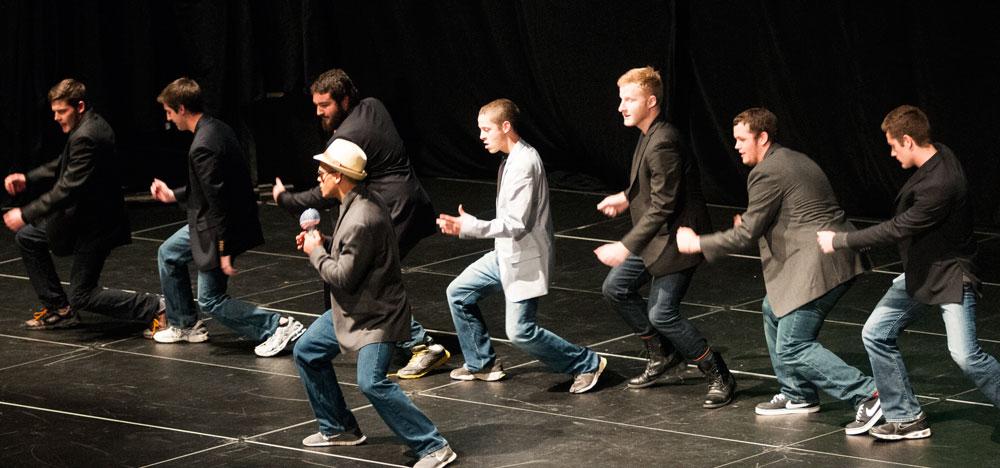 The Greek Games consisted of six events in which sororities and fraternities competed against one another respectively.
The Delta Zeta sorority and Tau Kappa Epsilon fraternity were named the winners of Greek Week. Appalachian fraternities and sororities participated in events throughout the past week to earn points, and the fraternity and sorority with the highest point totals were named winners.
The Phi Gamma Delta fraternity and Kappa Delta sorority were named the winners of the lip sync event.
In addition to Greek Week winners being announced, Josh Mabellos of the Tau Kappa Epsilon fraternity and Amanda Farr of the Delta Zeta sorority were named 2014 Greek God and Goddess after competing in a pageant Thursday at the Harvest House.
From April 2 to 7, the Greek community of Appalachian participated in kickoff events, the Greek God and Goddess Pageant, the Academic Bowl, a Service Day and the Greek Games, as well as the lip sync event.
Kelly Bayha, vice president of communications for the Panhellenic Council, said Greek Week is a way for people to realize that fraternities and sororities hold themselves to high values of service, philanthropy and academics.
"This week confirms the standards that we set for ourselves to keep a good image and enlighten others to see us not just as party animals, but more as individuals who want to deliver more to themselves and the people around them," Bayha said.
Callie Strachan, vice president of programming for the Panhellenic Council, said  more than $5,000 was raised over the course of Greek Week, excluding ticket revenue, which has not been totaled yet.
In addition, 9,637 cans were collected during the Greek Week's can donation on kickoff day.
All cans were donated to Blowing Rock C.A.R.E.S., a local food bank for Watauga County.
A total of 20 Appalachian fraternities and sororities participated in the events of Greek Week, Strachan said.
"It is an awesome thing to see all of the organizations come together and work for a common goal," Strachan said. "We've raised so much money and participated in service, and coming together as one is a really rewarding feeling."
Story: Gerrit Van Genderen, News Reporter
Photo: Morgan Cook, Intern Photographer