Documentary shown about domestic violence focuses on ASU student
A documentary focusing on the stories of local domestic violence survivors was shown in the  the Holmes Convocation Center, with a panel discussion following at 7:30 p.m. Wednesday.
The documentary, titled "Private Violence," featured Ashe County residents Kit Gruelle, an experienced advocate for violence victims and Deanna Walters,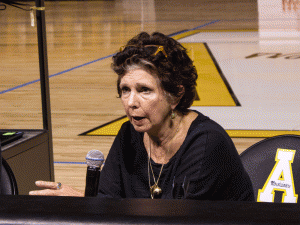 whose experience with severe domestic violence served as the focus for the film. Both women were members of the panel on domestic violence that followed the documentary.
Walters, whose case against her now ex-husband was the focus of "Private Violence," has returned to school at Appalachian State University and is currently a senior social work major.
Walters said there is a stigma that often comes with being a domestic violence victim through her personal experience.
"My family asked me why I didn't leave," she said. "I felt like they were blaming me."
All of the panelists agreed that the "why didn't they leave?" approach to a domestic violence situation is misinformed, citing the commonality of post-separation escalation of hostility and even deadly violence aimed towards victims by estranged abusers.
Gruelle added that this form of victim-blaming is all too common even today and the system can often be as oppressive as the abuser.
"I think one of the things we've done for decades is stereotype both victims and suspects," Gruelle said. "Until we start to take these crimes seriously, this is going to keep happening."
Gruelle, who has a degree in sociology from Appalachian, said advocates for victims of domestic violence offer some of the most important support.
Walters' advocate, Stacy Cox, was also a member of the panel.
"If it hadn't been for Stacy's advocacy, none of this would've ever happened," Gruelle said. "If it hadn't been for the determination of Stacy, I firmly believe Deanna wouldn't be with us today."
Cox currently serves as a case manager and court advocate for A Safe Home for Everyone and the Ashe County Partnership for Children, where Walters also volunteers.
Cox said problems arise in prosecuting abusers because there has to be a lot of evidence to prove a domestic violence case on the federal level.
Liz Mason, Community Services Legal Coordinator for Watauga and Avery county OASIS, a crisis center for victims of domestic and sexual violence, finished the discussion by advising that students be critical thinkers about what goes on in their communities and to be aware of the availability of resources like OASIS.
"The more of these domestic crimes that are prosecuted, the more precedent there is for change," Mason said.
Story: Haley Glenn, Intern News Reporter