Doug Gillin, former deputy athletics director at the University of Missouri, was named director of athletics at Appalachian State University, the university announced Friday.
Gillin will begin his new duties April 6.
As director of athletics, Gillin will represent the university in all facets of athletics, including the Yosef Club and Alumni Association Events. Gillin will also be responsible for ensuring the university's compliance with all rules of the NCAA and Sun Belt Conference, including compliance with Title IX regulations in the university's 20 varsity teams.
The selection concludes a national search that began after athletic director Charlie Cobb left to take the same position with Sun Belt rival Georgia State.
Cobb, who served as App State's athletic director for nine years, helped orchestrate the program's move from the Football Championship Subdivision Southern Conference to the Football Bowl Subdivision Sun Belt Conference.
Rick Beasley served as interim director of athletics during the search.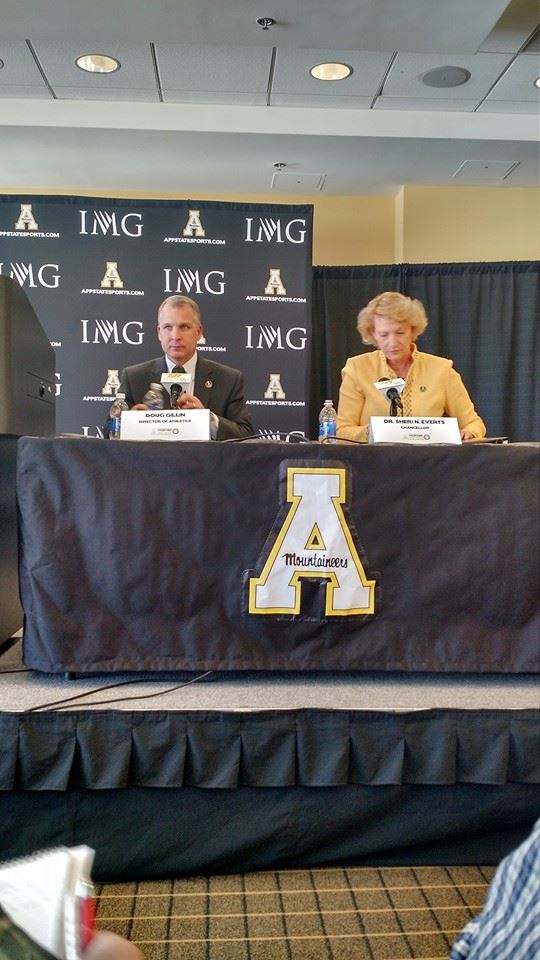 "I commend the search committee members for their hard work and welcome Doug to this amazing university," Chancellor Sheri N. Everts said. "I am confident he is the athletics director to build on our history of athletic success and address the opportunities associated with moving to the Sun Belt conference while remaining focused on the core academic experience of our student athletes."
Gillin said his plan for athletics includes emphasis on four major areas – academic integrity, social responsibility, competitive spirit and fiscal responsibility.
"We are by no means the most important part of this school, but we are a part of the university that can provide visibility for a lot of folks," Gillin said. "We represent this university every day when we are out in the community and we need to take that very seriously."
Gillin, a native of Binghamton, New York, earned a Bachelor of Science degree in physical education with an emphasis on sports management from State University of New York Cortland before earning his masters in physical education with an emphasis in athletic administration from Ohio University.
While in college, Gillin was an NCAA student-athlete and a four-year letterwinner while playing ice hockey at SUNY Cortland. Gillin was also the team captain.
Gillin served as Missouri's deputy athletics director since 2012, but got his start with the program when he served as assistant marketing director from 1997-99. During those two years, he was also general manager of Mizzou Sports Properties.
Gillin also worked with Lehigh University and the University of New Mexico and held managerial roles with ISP-Syracuse Sports Properties. ISP Sports became part of IMG in 2010.
Gillin ascended upward in ISP Sports Winston Salem after joining in 2002. By 2007, he was named executive vice president. He served as senior vice president of college properties until 2012.
While at Missouri, Gillin was responsible for overseeing all day-to-day operations during the athletic director's absence. He was heavily involved in the program's planning and budget development.
Gillin was also responsible for external operations for the athletics department, including the Tiger Scholarship fund, ticketing, strategic communications, Mizzou Sports Properties and game operations. He was also involved in a capital campaign that helped spur a $102 million enhancement to the university's athletics facilities.
Gillin said that he see similarities in App State's move to the Sun Belt and Missouri's move to the SEC in 2012.
Those similarities, he said, helped make App State a good fit for him.
"I certainly had a great time at Missouri getting integrated with the SEC ," Gillin said. "[There are] a lot of symbols and parallels with how we're integrating into the Sun Belt here that made this a great fit for all of us."
Gillin brings with him to Boone two daughters, one son and his wife Leslie.
"I'm glad they're behaving so far," Gillin said. "Thank goodness we have iPads, DS's, a Leapster and movies. Those are what got us through this trip. We're excited to spend the weekend here before we transition back and forth."
Gillin said he and Leslie have always viewed North Carolina as a good place to live and that he is eager to begin.
"This is a state that Leslie and I knew if we could, we'd love to live in," Gillin said. "I'm really, really excited. If I could jump off the stage, I would. I'm very thankful for the opportunity and very anxious to get started."
Story and photo: Cory Spiers, Sports Editor