ESPNU to televise App State football in 2014
Appalachian State football goes prime time this upcoming football season as its first Sun Belt Conference matchup with rival Georgia Southern has been pushed back from Saturday, Sept. 27 to Thursday, Sept. 25 to be televised on ESPNU from Statesboro, Ga.
The game will be the first nationally televised game for the Mountaineers since 2010 when App State hosted Villanova in the FCS quarterfinals in a game televised on ESPN. App State dropped that game 42-24.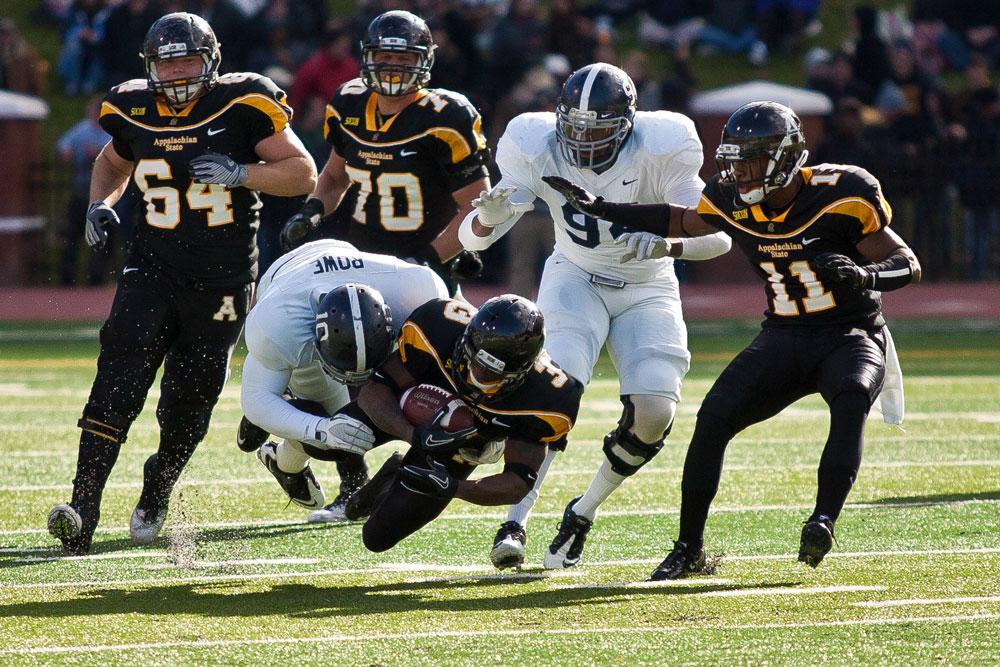 App State holds an 18-5 mark in nationally televised games.
"Playing in primetime on national television is a great honor and benefit for our program," head coach Scott Satterfield said in a statement from athletics. "It will be great to showcase the Appalachian-Georgia Southern rivalry in primetime. It should be a terrific atmosphere that our players will relish being a part of."
The Mountaineers are 6-0 in games televised on ESPNU and look to continue that win streak as well as another win streak against Georgia Southern.
App State has won three in a row against the Eagles. The Mountaineers' last visit to Statesboro resulted in a win in 2012 as the Mountaineers defeated the No. 1 ranked Eagles 31-28 off a touchdown catch by former Mountaineer wide receiver Tony Washington with 11:28 left in the game.
Last season, the Mountaineers came away with a lopsided win against the Eagles at Kidd Brewer Stadium with the final score being 38-14 on Black Saturday. The 29-game series has been played for 22 consecutive seasons with App owning a 16-12-1 edge on the Eagles.
The game will be played at Paulson Stadium, which will be completely renovated and expanded by the start of the 2014 season. Georgia Southern will have two Thursday night games to be aired on ESPNU, the second being against Troy University on October 30.
The time for the nationally televised contest has not been determined.
The rivalry matchup will also be the first Sun Belt matchup for both teams in their inaugural season.
Story: Bryant Barbery, Intern Sports Reporter
Photo: File Photo, The Appalachian