Fighting rape culture: Rape Culture Awareness Week will be held Nov. 17-20 to address sexual violence
Rape Culture Awareness Week will be held on Appalachian State University's campus Nov. 17-20 to raise awareness about societal attitudes toward gender and sexuality.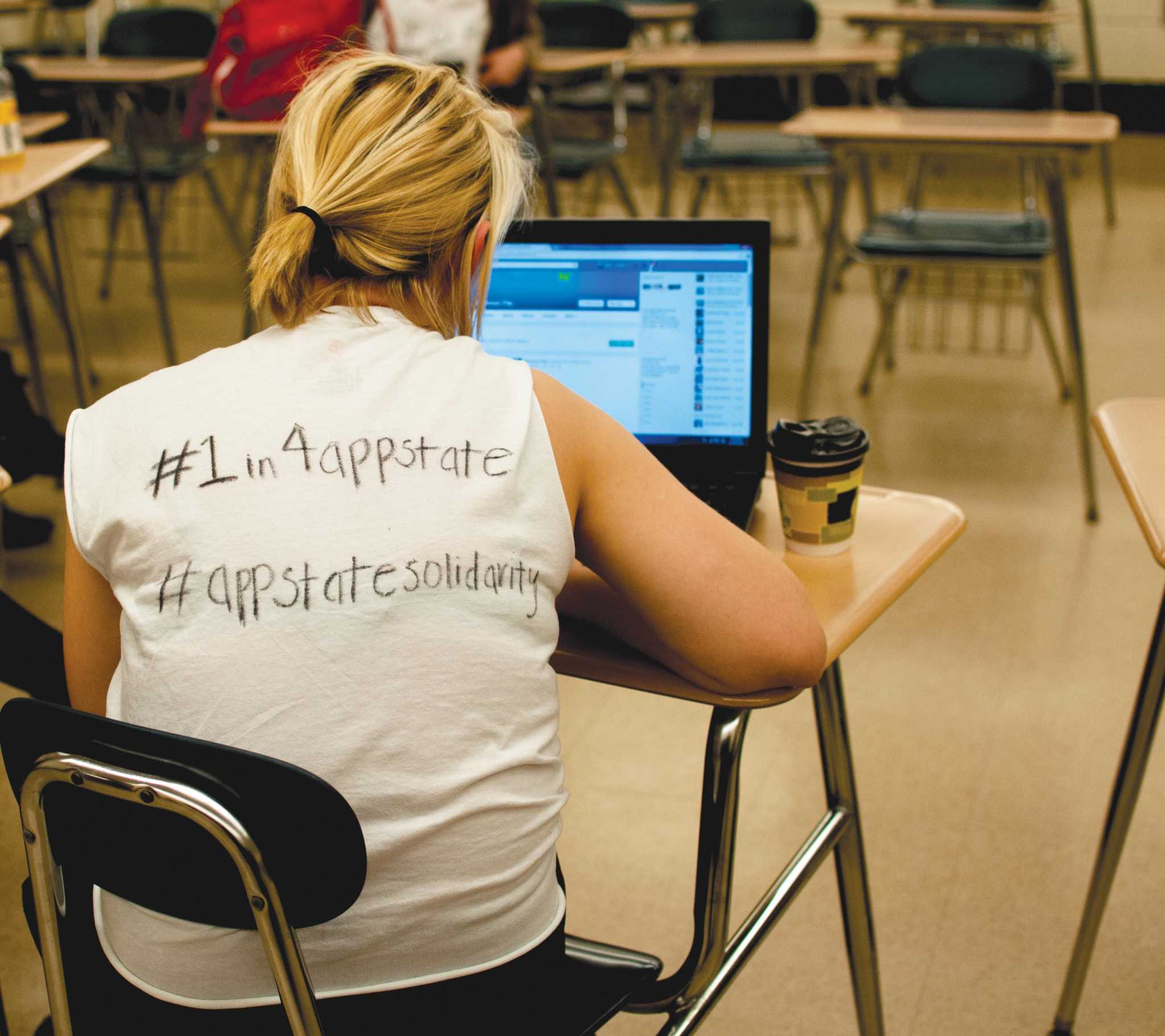 The week's events were organized by student groups Appalachian Educators for Social Justice and End ASU's Rape Culture. Planning was headed by End ASU's Rape Culture founders Julia Grainger and Rachel Clay and ASJ president Mary Lyons.
The groups will protest and observe a day of solidarity Nov. 17 on Sanford Mall, where they will write "1 in 4" on their faces and bodies to represent the statistics that have found one in four women are sexually assaulted during their college career.
Clay, a senior women's studies major said she received a grant in order to fund the participation of other University of North Carolina system schools. UNC-Chapel Hill, UNC Greensboro, UNC Charlotte and North Carolina State University will host their own days of solidarity in sync with Appalachian, while UNCG also plans to hold events during the week on its campus.
The Red Flag Educators, a group that teaches Appalachian students to be "upstanders" by intervening and speaking out about interpersonal, domestic and sexual violence will also be hosting a training at 7 p.m. Monday in Belk Library Room 421.
A #rapecultureiswhen photo booth will be set up in Plemmons Student Union on Nov. 18-19, as well. Students will be able to pose with signs explaining their personal definitions of rape culture. The hashtag will also be used throughout the week on social media to spread awareness.
Grainger, a junior global studies major said the week's biggest event will be Wednesday, titled Take Back the Night. A candlelit walk in honor of survivors will begin at B.B. Dougherty at 7 p.m. and will finish in the solarium in Plemmons Student Union. Entertainment from on-campus groups will be provided, followed by a poetry slam session on rape culture and an open mic.
The open mic will be a chance for survivors of sexual assault and domestic violence to share their stories, Clay said. "Even friends and family members who are personally affected – even if it's not their story – can share," Clay said. "It doesn't end until everyone that wants a chance to speak gets a chance to speak. That's why it's at the end."
On Thursday, Appalachian will also host its own Clothesline Project, started in Cape Cod, Massachusetts as an event where women affected by violence can express their emotions by writing them on a T-shirt and hanging them on a clothesline to display publicly as a testimony. A clothesline will be hung on Sanford Mall.
Grainger and Clay started End ASU's Rape Culture in September, after an open panel was held by SGA where students could ask faculty and administration questions about sexual assault handlings, but they didn't feel satisfied with the event and felt more conversation needed to be had.
Their meetings are open to the public and welcome all, but Grainger said despite directly inviting faculty and administration to participate, they do not show up.
The group has compiled a list of demands to give administration regarding policies, resources and more surrounding rape culture, which they will release Monday.
"We're better than some universities in this respect," Clay said. "But we're not doing as good as we could be doing compared to other universities that are doing better."
The group has also reached out to organizations on campus, inviting them to participate in Rape Culture Awareness Week's many events, including athletic teams and Greek life.
Clay said rather than "preaching to the choir," she hopes to spread awareness to groups who don't consider rape culture to be a part of daily life or are less educated about the subject.
"We're reaching out to organizations that wouldn't normally come to these sort of events, or wouldn't necessarily be told about them," Clay said.
Clay and Grainger also said they would like to see Appalachian set the precedent for other UNC system schools.
"For a campus that prides themselves on being progressive and very open, in some ways, we're not," Grainger said. "And we're no different from other campuses, we're no different from other towns that have rape culture. It's just opening up our eyes to actually see it."
Story: Laney Ruckstuhl, News Editor