Filling some big shoes
Wide receiver Malachi Jones faces pressure to continue a family tradition in the NFL
Coming from three generations of NFL athletes, App State junior wide receiver Malachi Jones uses the pressure of becoming a professional to his advantage.
Malachi is the son of his late father, Andre Jones, who was the starting outside linebacker for the 1988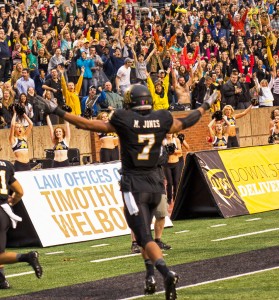 Notre Dame national championship team. He then continued his football career by playing for the Pittsburgh Steelers and Detroit Lions of the NFL and the Winnipeg Blue Bombers of the Canadian Football League.
Malachi's brother, T.J., played at Notre Dame as a wide receiver and was selected in the sixth round of the 2014 NFL draft by the Detroit Lions.
Phillip Daniels, Malachi's uncle, played in the NFL for 14 seasons with the Seattle Seahawks, Chicago Bears and Washington Redskins.
Even Malachi's godfather, Raghib "Rocket" Ismail, played in the NFL, finishing his nine-year career with more than 5,000 receiving yards with the Oakland Raiders, Carolina Panthers and Dallas Cowboys.
"Knowing that they made it gives me the motivation and the perseverance to just keep going no matter what," Jones said. "If they made it and they went through what I'm trying to go through, then I can make it too."
Jones said the line of successful players in his family gives him a sense of pressure to perform.
"With the success of many family members going to the NFL and being so successful, the pressure for me is just to go out there and do well and preform at a high level," Jones said. "I kind of feel like all eyes are on me in a sense."
Mountaineers wide receivers coach Justin Stepp said he realizes Jones' dream of continuing his family's NFL tradition. Stepp said he views it as his job as a coach to get him there and get him prepared.
"He's a very good player and he has every shot," Stepp said. "He has a long way to go before then, but he has another year and half with us to help get him there."
Stepp said he recognizes Jones' personal motivation and drive that makes him stand out as a player.
"He's been through a lot with his dad passing away," Stepp said. "I think that's what really drives Malachi. He doesn't want to disappoint his dad or disappoint anyone in his family. He's just a really conscientious kid, he thinks about every little, minor detail. I think that the expectations that he sets for himself are what drives him."
Fellow junior wide receiver Simms McElfresh said he is always confident in Jones' ability to make plays and lead the Mountaineers.
"Malachi is a great teammate," McElfresh said. "He's a hard worker and he leads by example. He's seen what it takes and knows what it takes to get there. When I came here, I thought he was one of the most well rounded receivers I'd seen."
Jones said playing in the NFL after his App State career is over would be an "absolute dream" and that the Lions, Steelers and Atlanta Falcons would be his favorite teams to suit up for one day.
While there are pressures to go along with the high expectations from his family and friends, at the end of the day, Jones said he just wants to make his family proud.
Jones said he often seeks them out for guidance and support when questions arise during his football career.
"I have knowledge that other players don't have at the college level," Jones said. "Being able to call my brother or my uncle or whoever else I may know that played in the NFL and in college for any kind of information definitely helps, I feel like it gives me an edge on the opponent."
Story: Kayla May, Intern Sports Reporter
Photo: Paul Heckert, Senior Photographer