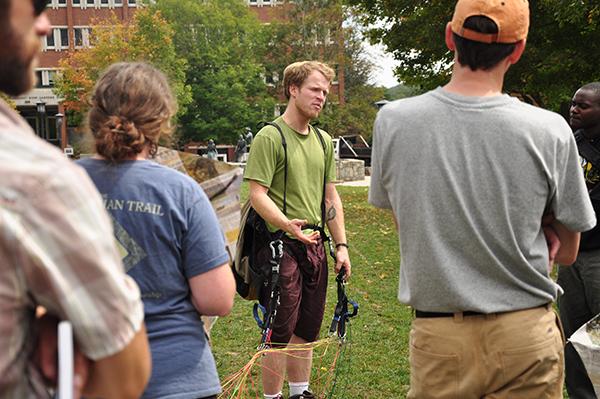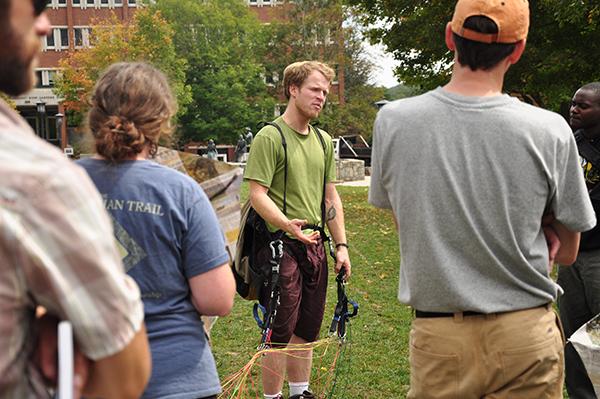 Filmmakers Godfrey Masauli and Benjamin Jordan led a paraglider demonstration and showed students the process of making and flying recycled kites Friday afternoon on Sanford Mall in promotion of their film "The Boy Who Flies," a documentary that is part of Banff Mountain Film Festival.
The pair visited Boone to speak about the film and spread what they said was its message: Chase your dreams, no matter how out of reach they seem.
The filmmakers were persuaded to come by the Cultural Awareness and Student Engagement Council of the Appalachian Popular Programming Society, created this year to attract support and awareness of international culture on campus.
The event attracted approximately 40 participants and began with group members sharing personal aspirations and dreams, which ranged from wishes to travel and become parents to paying for family members' education.
"I think this speaks a lot to the kind of community that we have here where it's a lot of people who are very interested," said CASE Chairperson Karissa Goff.
"We're all very curious just to see what's going on and what's out there. Hearing what people want to do really speaks to that."
Masauli's dream, which eventually inspired the film that brought him to Boone, was simply to fly.
"I had this long life dream to fly, but in Malawi that dream wasn't there," Masauli said. "Everybody in Malawi told me that it was impossible to become a pilot, but I believed in my heart that one day I was going to fly."
Five years after completing school, Masauli met Jordan, a paraglider pilot, while he was visiting the area to scope out locations for a potential documentary. After a few weeks spent together, the two became fast friends and taught each other many things, including paragliding.
"This film wasn't actually supposed to happen." Jordan, a still-photographer by trade, said. "When I was there doing that research and meeting people I met Godfrey and things were just happening in such a serendipitous way that I felt there was no part of me that could just push pause and wait to get the funds to do it properly."
These appearances at Appalachian State University mark the beginning of a three-month tour of the U.S. before moving to other countries in preparation for this year's Banff festival in Alberta, Canada.
"It was probably the most amazing experience of my life, and it's so great to share that with the people of the world and the people at Appalachian State," Jordan said.
Boone area businesses, along with the school's support, donated a surplus of paragliding equipment so that Masauli can return to Africa to open the School of Dreams, a motivational program for youth that incorporates paragliding with personal growth and development.
More information about the film is available at theboywhoflies.com.
Story: LOVEY COOPER, Senior A&E Reporter
Photo: JUSTIN PERRY, Photo Editor