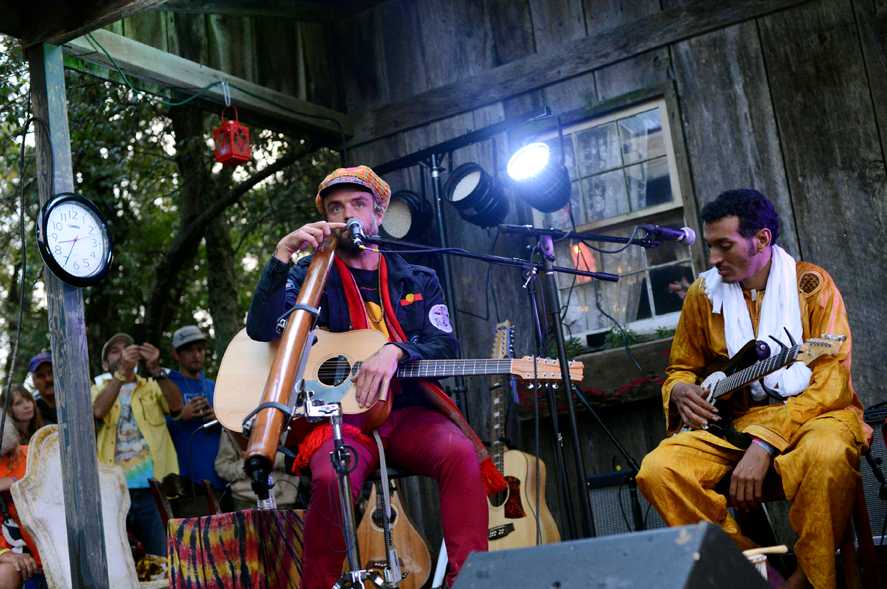 Music festival-goers flocked to Floyd, Va., for a sold-out FloydFest Rise 12 & Shine this weekend despite hours of rain.
The four-day festival began Thursday afternoon with sunshine, yoga workshops and musical performances by Gogol Bordello and Railroad Earth.
This year's FloydFest featured an "On the Rise" series where festival attendees voted for their favorite shows from up-and-coming musicians. The contest highlighted more than 15 artists with a winning prize of a performance on the FloydFest 2014 main stage.
The band Tauk was surprised to see the large crowd that appeared for their Thursday night performance during headliner The Lumineers' show.
"Sometimes with these festivals you don't know what to expect," guitarist Matt Jalbert said. "There are so many bands playing that you never know what kind of crowd you're going to get. After a couple songs, the crowd just continued to grow and grow and the energy just went up and up."
Heavy rain and thunderstorms fell early Saturday morning during the first of three FloydFest performances by Italian worldbeat artist Gaudi.
"Five minutes before my set it starts raining, and I am like 'no,'" Gaudi said. "It's outdoor so I don't know what the reaction will be."
The rain did not deter the crowd––there was a large turnout for his electronic show.
"We didn't even really realize it was raining because we were having so much fun and dancing so much," senior environmental science major Ginny Gills said. "There was a fire so if you were too soaked and needed a little break then you could go get warm."
The rain continued late into Saturday afternoon making for a very muddy festival ground.
"It was pretty intense," senior health promotions major Matt Sedelmeyer said. "Almost like walking through quicksand, but it was mud."
FloydFest staff took several actions to solve problems caused by the rain.
"They did a really good job of spreading out hay immediately when it started and redirecting traffic to places where there was still grass," Gills said.
While the grounds may have been covered in mud, they were free of trash–part of FloydFest's focus on staying environmentally friendly. In an effort to reduce trash, beer and wine vendors only served attendees who purchased a $6 reusable canteen cup.
"We were walking around the beer garden, and usually in a situation like that you just see beer cups, and trash and booze everywhere, but there wasn't any of that," Gills said. "It was really clean."
A muddy parking lot prevented some attendees from leaving Sunday night, but FloydFest opened VIP-exclusive shows to the entire festival.
"Regardless of the weather, the festival in general was incredibly clean and family-friendly," Gills said. "I'm definitely going back next year."
Story and Photo: OLIVIA WILKES, Senior Photographer