Good morning Mountaineers. The sun is shining over the Blue Ridge Mountains, your alarm has just gone off and it is 7 a.m. It's time to start tailgating, which is the best way to start off the first App State game day of the season.
The game day experience is sacred. It is imperative you know what to expect and how to navigate the tailgating experience. This ensures you come out as game day royalty.  
The rules of game day are timeless and known by many, but it is always good to have a refresher.
Rule 1: Never not pre-game
Honestly, sometimes it can be overwhelming getting together with friends who seem to know everything about touchdowns, passing yards and they always know where the line of scrimmage is even after the line on the TV has gone away. Even if one cannot contribute to the statistics talk, there is another way to win the love of the watching party: refreshments.
No game day is complete without hot dogs, hamburgers, Doritos and ice-cold, condensation-dripping-off-the-can, refreshing drinks, whatever that may be for you. Actually, the game day experience should start the night before. Head to Phil's Gastown to pick up enough refreshing beverages to quench an army of vikings' thirst, and then head to places like Lowes Foods or Walmart to pick up greasy hamburgers and hot dogs. Now one is ready for the next day.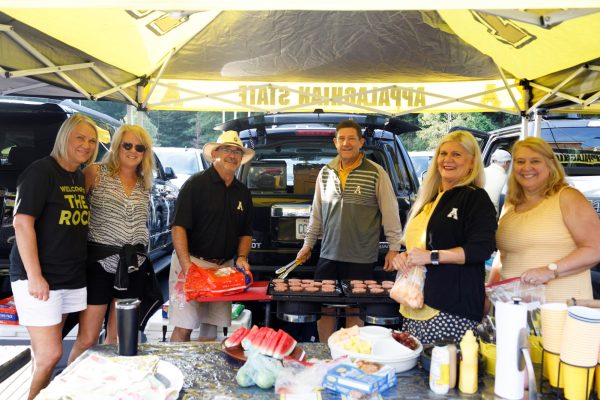 When one wakes up in the morning of a game day, expect the parking lots around campus to be filled with tents, pickup trucks, grills and the heavenly smell of food wafting through the air. This is where the preparations come in handy. Join friends, throw those hot dogs and burgers on the grill for everyone, turn on some music for the crowd, pop open your ice-cold one and sit back and enjoy the game day banter. 
The pre-game usually lasts for a few hours in the morning and is a great place to make friends while playing corn hole or just shooting the breeze talking about team statistics. As hour three or four rolls around, everyone starts to move, like a migration scene from "Ice Age," towards Kidd Brewer Stadium so they can do battle with the visiting team and their fans.
Rule 2: Always leave with no voice
Football stadiums today are basically replicas of the Colosseum; a place we gather to watch as our heroes battle fiercely for the pride of their nation, or in this case, their university. We as fans have a crucial role to play in this fight: keep it hype. 
The best way to keep our players going as hard as they can is to make sure you can participate in all the cheers and battle songs that get yelled out throughout the game. There are a couple you need to know and the App State Athletics website has the lyrics for you. 
The student section tends to be where most of the action is on game days. That is where you will find all the die hard fans that stand and shout all game long with hopes of making it onto the jumbo-tron or, even better, onto TV. 
If you are brave enough, or really want to throw yourself into the deep end on the first game day, then head to the student section, but know there are some requirements. 
The biggest one is decor. Students love to dress up for this section and that normally means facepaint and their favorite App State apparel. Lately, App State overalls are a fan favorite on game days. One can find and purchase them around Boone since just about every apparel store sells them. They are not required, but they are highly recommended.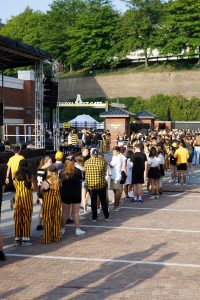 Another requirement is you have to know the most used cheer, which is just the two words "App" and "State." Normally, when the crowd cheers this they split down the middle into two sections and from there, one half starts the cheer by yelling "App" and the other side finishes the cheer by yelling "State." It always gets the crowd hyped for the game. 
In truth, it doesn't really matter where you sit in Kidd Brewer Stadium, but rather how loud you are. After the game is over as one leaves the stadium, one shouldn't have a voice left. 
Rule 3: Make Boone a celebration station
The post-game celebration is very important. This is a time where the fans get to gloat over their team's accomplishments. A time where students get to solidify their new friendships with others and make plans to do it all again next Saturday. 
A good celebration can range from going out for some pizza, hanging out at home or heading out to some of Boone's best bars and breweries. 
For pizza, there are really no better places than Lost Province Brewing Co. and Mellow Mushroom. Both restaurants have an amazing selection of pizza and some really great vibes for a post game dinner with family and friends. 
For more of a game day bar experience, one of the best places to head is Ale House. They have plenty of wings, burgers, fries and fun drinks to celebrate the win. Outside, they host a cornhole set up and inside they have live music some nights. 
If one is still full from all the tailgating and just wants a couple of good cold IPAs, then the two places in town for that are Booneshine and Appalachian Mountain Brewery, better known as AMB. Booneshine provides some in-house food and a selection of craft beer. Plus, they have a beer garden with games for kids and live music. AMB hosts a beer garden and a food truck. If one just wants to turn up, or get jiggy with it, then some of the best places are Boone Saloon, Lily's Snack Bar or TApp Room. The top of Boone Saloon is a more typical dive bar with live music. Some nights, there are ski ball and pool tables, along with a jukebox for all the DJs who want to set the vibe, on the floor below. At Lily's, there are a lot of cool themed drinks that taste as delicious as they all sound. TApp Room is a place to discover some new emerging local bands and have a couple themed drinks while you watch the cars drive by on the front porch. 
Sometimes, navigating game day activities and celebrations can be overwhelming. But, if one keeps these rules in mind, a great game day is almost guaranteed.