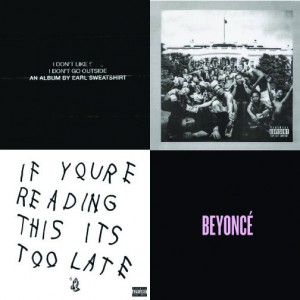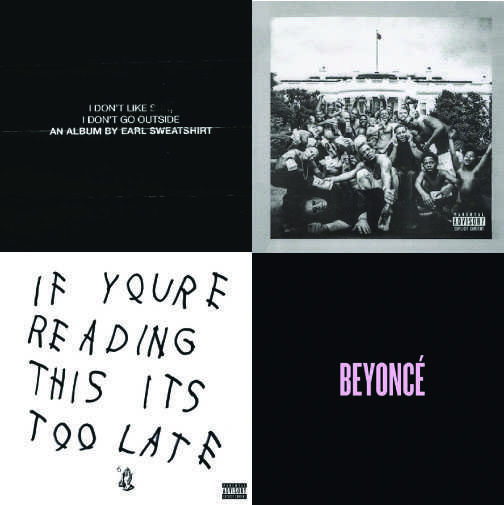 It is time to kiss the release dates goodbye, hip-hop fans.
In the wake of Drake's unexpected release of the mixtape/album "If You're Reading This It's Too Late," in early February, we've seen Kendrick Lamar release "To Pimp A Butterfly" digitally one week early and Earl Sweatshirt's "I Don't Like Shit, I Don't Go Outside" appear on iTunes last night with a release date of March 23 – one week from now.
Other artists including Kanye West and Chance The Rapper have already come forward and said their albums will be surprise releases too. Can we talk about how exciting this is making 2015 for the genre of hip-hop?
Not only are multiple big names dropping albums this year, but there's an added sense of anticipation and mystery due to the shortened amount of time between announcing the album and its release.
Hip-hop artists are constantly pushing to find different mediums and marketing schemes to release their albums in new and innovative fashions. Although artists have been bumping up their release dates and surprising fans for some time now (Frank Ocean, Radiohead, etc.), the focal point of this shift is Beyoncé's self-titled album, which sold more than 800,000 digital copies in three days in December of 2013.
Why would an artist bother to go through the months of marketing and promotion when he/she knows the album will sell as much, if not more, with a surprise release?
So, while certain albums will forever remain synonymous with their release dates to me – Kanye's "My Beautiful Dark Twisted Fantasy" on Nov. 20, 2010, Kendrick's "good kid m.A.A.d city" on Oct. 22, 2012, Jay Z's "The Blueprint" on Sept. 11, 2001 – they are no longer relevant to the success of the music.
Drake's "If You're Listening…" is the only example needed to prove this point. The Toronto-based rapper tied a record held by The Beatles for 51 years by charting 14 songs simultaneously on the Billboard Hot 100. That's 14 of the 17 tracks on the entire project, which was only released digitally.
A hip-hop artist with a substantial fan base does not need months of promotion for a release date anymore as a result of the social media society we live in. If the artist is popular enough, fans will purchase, or at least listen, to the music regardless of how much notice they're given.
There's no longer a will to wait for the music with a release date stamped on your calendar. Action Bronson, who will released his debut album, "Mr. Wonderful," next Tuesday, announced the release date on Jan. 7, 2015 – a day that seems more like a year ago rather than two months.
Looking specifically at Kendrick, "good kid m.A.A.d city" was announced four months before its release date. In contrast, "To Pimp A Butterfly" was first announced March 6 with a March 23 release, only to be dropped suddenly in the late hours of Sunday, March 15.
In an industry and genre of mimicking your peers, hip-hop artists are catching on quick that this is the route to take in the future of releasing music.
Story: Gerrit Van Genderen, Managing Editor