Former, current Mountaineers impress NFL scouts and coaches at Pro Day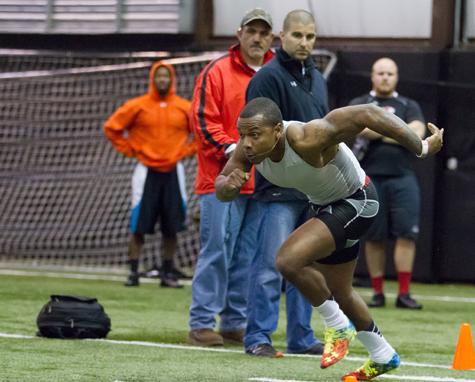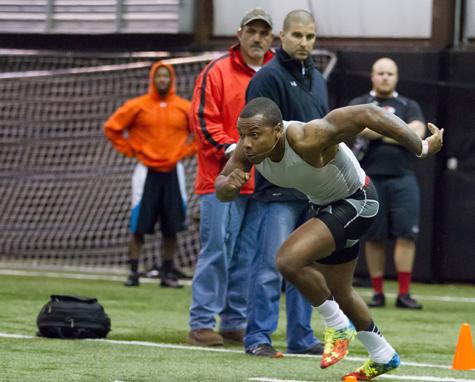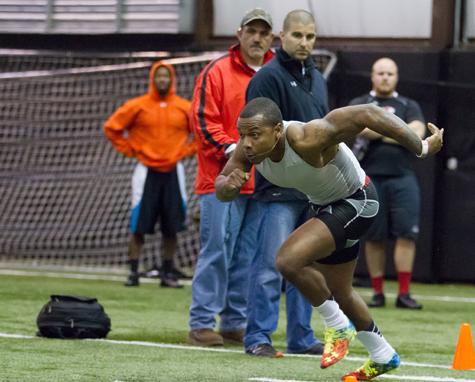 Football athletes have experienced long days of training, looking to raise their stock for the National Football League's draft nearly a month away.
The first step for some of these athletes was Monday, March 18 at the Appalachian State Pro Day.
Although the weather conditions were not favorable for the five App State players looking to be on an NFL team, some still impressed scouts.
Defensive back Demetrius McCray, linebacker Jeremy Kimbrough, punter/kicker Sam Martin, safety Troy Sanders and running back Steven Miller all were seen by about 20 NFL scouts and position coaches.
"All these guys did a lot of good things, they looked very sharp," NFL liaison Kareem Young said. "We had real good reviews from teams. They were impressed with the explosiveness of our kids."
Explosiveness is what took NFL scouts from just examining players to applauding Miller's performance when showcasing his vertical leaping ability.
Miller's recorded vertical was 43 inches, according to panthers.com. That would tie him with Texas A&M's Christine Michael, who also recorded 43 inches at the NFL Scouting Combine.
"When you have coaches clapping for you, you put on a show," Young said about Miller's performance. "They have to know if you can take the pounding at the next level…I think he did a good job today at showing that."
Another performance that raised eyebrows was that of Kimbrough. Scouts had Kimbrough run through both linebacker and running back drills.
"I knew coming in that I was going to have to do some running back drills," Kimbrough said. "I just wanted to show teams that I'm willing to do anything to make the team."
Kimbrough said that the last time he played running back was when he was in the third grade.
The athletes were at an advantage because Pro Day was at Appalachian. Their familiarity with the stadium and conditions was the difference for McCray, who also participated in the NFL Scouting Combine Feb. 26 in Indianapolis, he said.
"I'm used to working out in these conditions," McCray said. "I felt more comfortable with my surroundings than Indianapolis."
McCray said that he had a personal record in all the drills that he participated in during the combine.
Punter/kicker Sam Martin was able to meet with coaches to talk about kick and punt schemes. He also showcased his strong leg, both kicking and punting for the scouts.
Running back Rod Chisholm also participated for App State as well as two other former Mountaineers, Mark LeGree and Cedric Baker Boney. App State's deep pool of NFL prospects could see it match or exceed its school record of three NFL Draft picks, according to goasu.com.
The prospects will continue training in hopes of getting drafted April 25-27.
Story: JAMES ASHLEY, Sports Reporter
Photo Courtesy: Tyler Buckwell