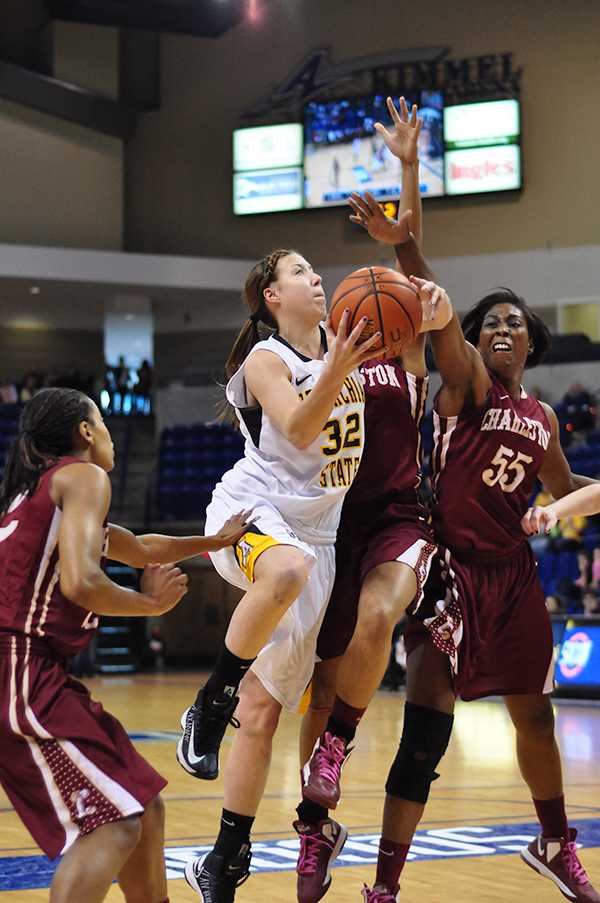 For the 10th straight time, the Appalachian State women's basketball team beat the College of Charleston, this time with a final score of 74-60.
Both teams started the game aggressively, but the Mountaineers got into foul trouble early with four quick ones that would hurt them later.
The Cougars kept the pace fast as they tried to get out and run at every opportunity but App State kept Charleston's fast break points down.
With six minutes to go in the first half, App State would up their aggressiveness and finish out the half stronger than they started.
Despite picking up two early fouls, Anna Freeman kept them alive by scoring 10 points and grabbing eight rebounds in the first half.
Their 9 for 11 free throw shooting helped give them a 34-28 lead after one.
The second half had even more energy as both teams felt their season on the line.
The Cougars began hitting 3-pointers in the second, which would give App State's zone a difficult time. However, Anna Freeman and Maryah Sydnor were able to match them by hitting two close together.
Sydnor caught fire in the second, scoring nine of her 17 points in the half.
Thanks to 25 turnovers by the Mountaineers and only 13 from Charleston, the score would be close for the rest of the game. The Cougars even tied the game up with 12:07 before Raven Gary converted an and-1.
App State's head coach Darcie Vincent said her team could pass to everyone but themselves.
"We just made boneheaded decisions," Vincent said. "It's been a thorn in our side all season long."
App State counteracted their turnovers by stepping up their defense down the stretch, which caused Charleston a lot of problems.
The Cougars were held scoreless in the final 2:09 of the game allowing Anna Freeman and Sydnor to make six clutch free throws to seal the 14-point win.
Anna Freeman's 10th double-double this season led the Mountaineers, she had 23 points and 10 rebounds. Sydnor had 17 points, six rebounds and three steals, while Raven Gary and Courtney Freeman had 14 and 11 points, respectively.
"We fought today," Vincent said. "A lot of things didn't go our way today and it was good to see we kept responding to that. We didn't give up, we didn't pout, we know we have to be resilient.
Vincent said she thought the reason they won was that they hit big shots.
"If you look at the stats, they shot the ball 77 times, we only shot 49 times, so the fact that we did shoot the ball so well is the only reason we were in the basketball game," Vincent said.
App State advances to the semifinals to play Chattanooga Sunday at U.S. Cellular Center. Tipoff is scheduled for noon.
Story: ANDREW CLAUSEN, Sports Editor
Photo: JUSTIN PERRY, Staff Photographer