Detectives with the Boone Police Department arrested an Appalachian State University freshman Tuesday, charging him with two felony counts and two misdemeanor counts.
The arrest came as the result of an investigation after police received a report of a breaking and entering to the Horn in the West property off Horn in the West Drive on Saturday.
Freshman Matthew Ryan Goldstein was charged with one count of felony breaking and entering, one count of felony larceny after breaking and entering, one count of misdemeanor damage to real property and one count of misdemeanor defacing a public building.
The perpetrator used spray paint to vandalize the property resulting in approximately $3,000 in damage, according to a news release from Boone police, which also states that numerous buildings were entered and damaged.
Police also have information to believe Goldstein may be responsible for graffiti in other locations in town, police Chief Dana Crawford said in the news release.
The graffiti was discovered Saturday morning, and senior theater major Emily Candelario, who has been involved on the production side for the past three years, was alerted to it while working on another project with director Teresa Lee around 10 a.m.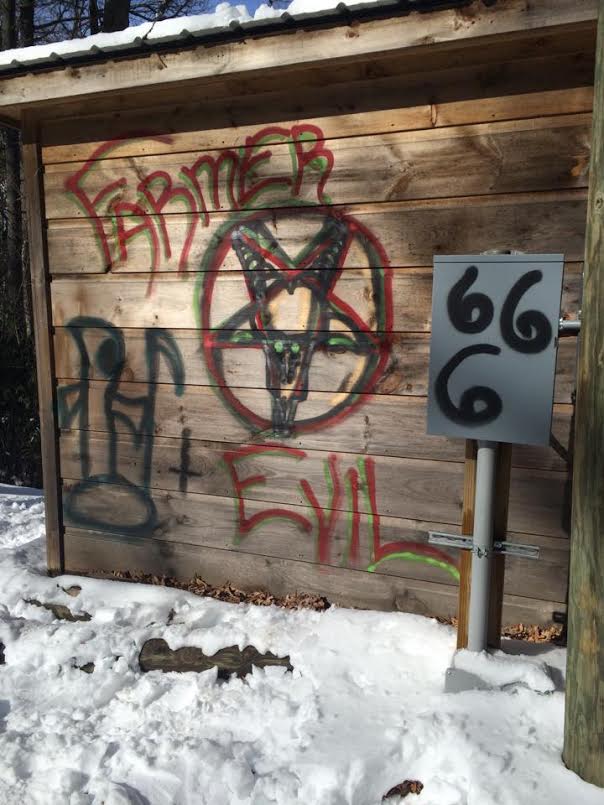 An area of wet paint, as well as what appeared to be fresh footprints in the snow, indicated the crime was recent, although nobody from Horn in the West's production had been around the property in two weeks.
Horn in the West has never invested in security cameras due to a lack of funds and no prior need. Candelario noted that Boone police officers tend to sit in their cars in the parking lot nearby, but do not usually patrol the area.
All props and costumes for the show are located off-site in other office buildings, Candelario said, but the windows were shattered into a building that houses electrical equipment. Further investigation into whether the wiring has been altered is still needed.
Every surface that was accessible by foot, including some beams higher up in the structure of the theatre, were tagged, Candelario said, although deeper snowdrifts protected the older historic buildings that date back 300 years ago. Freshly restored amphitheater structures and a new fence were also included in the vandalism.
"It kind of looks like an acid trip," Candelario said of the graffiti, noting there were "a lot of demonic symbols" painted, as well as the phrases "welcome to the void," "bleed for me, slut" and "evil wins" written across the property.
The play's director, Theresa Lee, has been directly involved with Horn in the West for the past five years, and said that while there have been incidents of vandalism in recent years to the Hickory Ridge cabins on the same property, this is the most extensive graffiti she has seen.
All of the areas damaged are technically town property, but Horn in the West is unsure right now as to who will be responsible for carrying out the repairs and which party will end up paying for them. The town has an event scheduled for May 2, before which the site would need to be made presentable.
If it comes down to it, past employees and students have volunteered to help restore the site, Lee said.
"As these things go, we are very fortunate in that we believe we will make a full recovery," Lee said. "It's just unsettling and disappointing that such a beautiful place would be disrespected and desecrated just out of sheer meanness."
The play's production season is slated to start on the property June 5, after the town council recently reinstated the license for Horn in the West's continued use of the land after a successful last season.
"We keep making two steps forward and then 17 steps back," Candelario said. "We want to tell the town that this isn't okay."
Goldstein's court date is set for April 28, and he has been placed under a $10,000 secured bond.
STORY: Lovey Cooper, Senior A&E Reporter