Freshman performs with Great Caesar
Annie Joy Johnson, a freshman elementary education major, performed with one of her favorite bands, Great Caesar, at their concert April 11 at the Outer Space Ballroom in Hamden, Conn.
Johnson was personally invited by members of the band after they came across her cover of their song "Don't Ask Me Why" on Facebook and YouTube.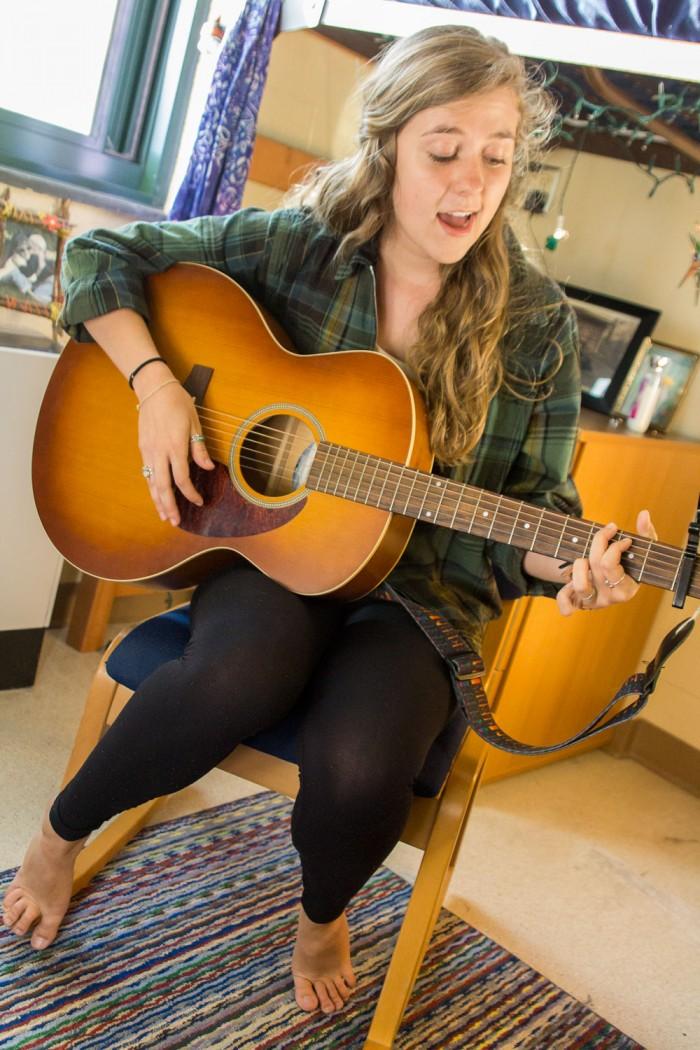 "I first received comments on my Facebook music page from a couple of the band members just saying who they were and how impressed they all were that I covered the song on my own," Johnson said. "I then got a few likes from band members, comments from the band's page, comments on YouTube and even a couple of shares by the band."
The YouTube video now has more than 1,000 views. John-Michael Parker, the lead singer of Great Caesar, personally commented on the video.
"I'm sitting here, listening to your beautiful and moving performance, beaming with happiness and gratitude," Parker wrote in a YouTube comment. "You make our song sound so good!"
In Parker's comment, he included his personal email address and told Johnson the band was interested in bringing her out to a show to perform.
"Overall, I think what was really special about her cover was that she put such spirit and meaning into her performance," Parker said. "She really told the story, you know? With emotion and power."
Johnson emailed Parker with the date that worked best for her.
"I drove there with my twin brother, Luke, and friend from Appalachian State, Matthew Ford," she said. "It was a smaller, more intimate bar, but there were about 50 to 100 people there."
Johnson performed "Don't Ask Me Why" with the band twice, the first time on stage during the concert.
"The whole thing was really very surreal," Johnson said. "All of the members of the band were extremely friendly and excited to have us there."
Johnson said she was overcome with happiness because of the support she received after the concert.
"After the concert we stuck around while the band was greeting everyone and we actually got to greet some people ourselves," she said. "I was actually very overwhelmed with how many people, total strangers, came up to meet us and to tell me how great it was."
Johnson also performed the song a second time with the band, after the concert outside of the venue.
"Once everyone was sort of heading out [Parker] grabbed me and told me we were going outside to sing it again for a group who had missed it, so we all headed out in front of the venue and played it on the sidewalk," she said. "It was just this circle of people all gathered around for this song and everyone was singing along and getting really into it and it was so personal and beautiful."
After the second performance, Johnson said it was as if she had been initiated into the band.
"After that we helped the band pack up, as they joked about me being the new member and needing to do my part, and took some group pictures to document it all," she said.
Johnson credits the band members' good nature as to why she was able to enjoy the experience so much.
"Most of them have been playing together since high school, so they had a really awesome dynamic with each other, and I think that's what made it all so easy," she said. "They were just really energetic and supportive, as well as very down to earth, and that really made the nerves disappear."
Parker said "Don't Ask Me Why" is about community and bringing people together, which made it an easy decision for Great Caesar to invite Johnson to perform with them.
"What was amazing to us was that she drove so far and brought along her awesome brother and friend, that really was something else," he said. "We are so grateful for the whole experience."
Story: Nicole Caporaso, News Reporter
Photo: Paul Heckert, Photo Editor