After being assigned a project focusing on food, food security and awareness for her Activism 101 course, freshman social work major Mkayla Nelson and her group had to think of different ideas that could impact Appalachian State University.
Once the group, which includes seven other classmates, and Nelson finished brainstorming for the project, they decided to launch Feeding Watauga Families – a nonprofit project that would collect enough food for one meal for 50 families in need in Watauga County.
"When we were first assigned the project, we didn't know exactly what we wanted to do," Nelson said. "We knew we wanted to stress food consciousness while making an impact on where we all currently live – Boone. But what we're doing now goes way beyond just a class project."
The group first decided on a bake sale to raise money for their project, but decided against it when a GoFundMe page was brought up.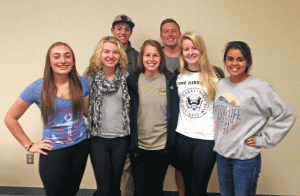 "The bake sale got shot down, and we were sort of at a loss at how to raise the money," Nelson said. "But then my boyfriend, Steven, suggested we set up a GoFundMe page and advertise through Facebook. We all agreed on this idea, so I set up the page and the funds have been coming in ever since then."
GoFundMe is a host that breaks down traditional fundraising barriers. It links to Facebook and allows nonprofit organizations to share their campaign with their friends on the social network, ultimately making virtual donations.
"We made our goal $600, since GoFundMe automatically deducts a 5 percent fee," Nelson said. "We plan to make 50 boxes with ingredients for at least one meal, and then distribute these boxes to families in Watauga County that are in need of a meal."
Freshman industrial design major Gabby Horvath, one of Nelson's group mates, is proud of the progress that the group has already seen.
"The GoFundMe has helped our group tremendously," Horvath said. "We have already had $515 donated, and we're only five days in to the project. At this rate, we may be able to supply more than 50 meals."
The group will distribute the care packages through Hope Pregnancy Resource Center, the Hunger and Health Coalition and the Hospitality House.
"There are about 16 single moms who attend Appalachian who go to a support group at the Hope Pregnancy Resource Center every week," Nelson said. "So, we plan to distribute those boxes in person to the moms. The rest will be distributed at the discretion of the Hunger and Health Coalition and the Hospitality House, hopefully."
Nelson said the group is putting together a cookbook that will be included in the care packages for the families. The cookbook will have simple recipes and prices for the ingredients, which will reinforce the idea that large amounts of money do not have to be spent in order to lead a healthy life.
The group hopes to package all the ingredients by Nov. 22, and distribute the packages on Nov. 23.
"The idea is to organize this project around this time every year," Nelson said. "This project means a lot to me personally because I volunteer a lot and know how important it is to give back to your community – especially those who need it more than me and my group members need it. I hope we can make Feeding Watauga Families a food drive every year."
Story: Madison Barlow, Intern News Reporter