Appalachian State softball coach Shae Wesley watched Cynthia Gomez transition from a rookie player to an infield standout.
Gomez, a junior from Oxnard, Calif., ranks second on the team with a .340 batting average, which allowed her to help propel the team toward success this season.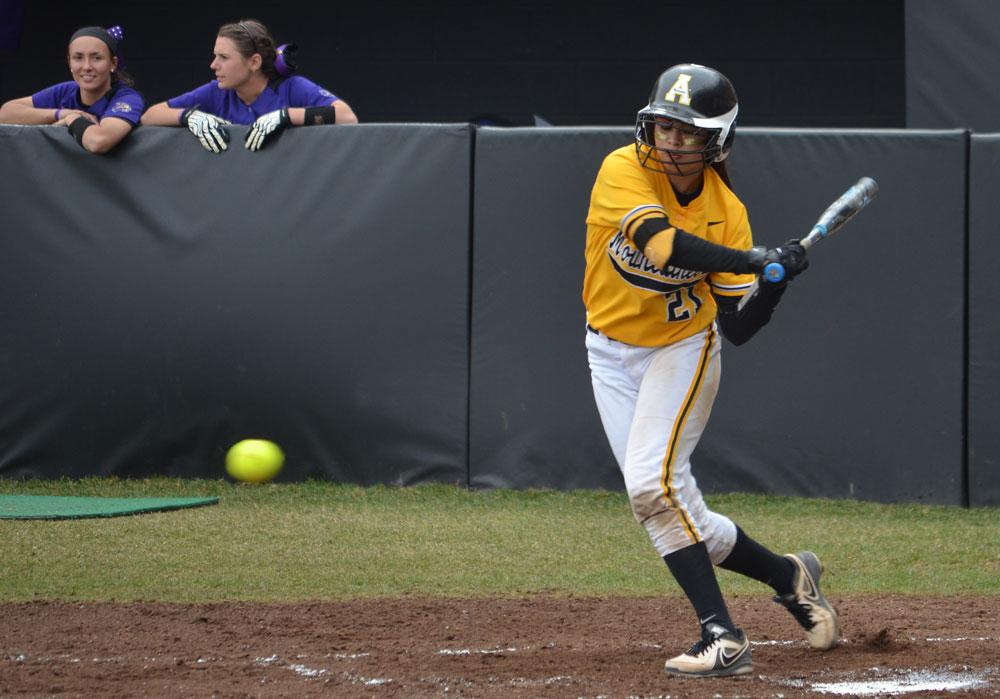 Only junior catcher Sarah Warnock has a higher average (.364) than Gomez this season.
Despite her offensive success, Gomez said she prefers playing defense over batting. As a second baseman this season, Gomez has a .942 fielding percentage, which is good for fifth on the team among players appearing in at least 30 games this season.
Gomez said she relies on her teammates and coaches to continually challenge her in all phases of the game. She said her batting partner and close friend Ellie Manriquez pushed her to improve this season.
"I'd definitely say my teammates [help me], especially [Manriquez]," Gomez said. "She holds me accountable for everything and also the coaching staff because they make it hard for us during practice."
Gomez said she consistently pushed herself last season and worked even harder during the summer to get where she is now.
As a sophomore last season, Gomez made 34 starts for the Mountaineers, ending up with a .248 batting average and a .946 field percentage.
"She's made a huge jump from last year," Wesley said. "Last year, she was a little bit newer and had a lot more playing time. She had a lot more pressure as a sophomore."
Gomez's talents at second base haven't gone unnoticed by her teammates or coaches.
"She is a phenomenal infielder," junior pitcher Alissa Schoelkopf said. "Every time the ball gets hit to the middle infielders, I have every confidence in the world that they're going to get it."
Even in the face of adversity, it seems Gomez is able to keep her head in the game in order to help App State's defense put a stop to its opponents.
"She's been battling a few injuries here and there," Wesley said. "When she's healthy, she does a tremendous job leading our infield for us."
Gomez's consistency allowed her to impress her teammates, while ultimately becoming a key contributor at the top of the Mountaineers' lineup.
"She hits the ball great at practice and in the games," Schoelkopf said. "She's a very consistent player. We all have to start playing more like she does."
Story by Kaitlyn Thurston, Senior Sports Reporter
Photo by Cory Spiers, Sports Editor