Gov. McCrory's visit met with mixed emotions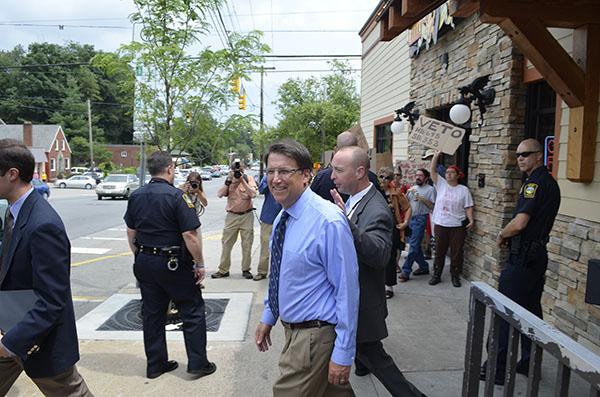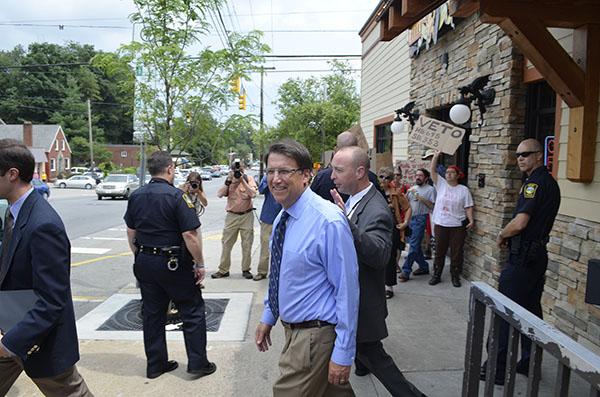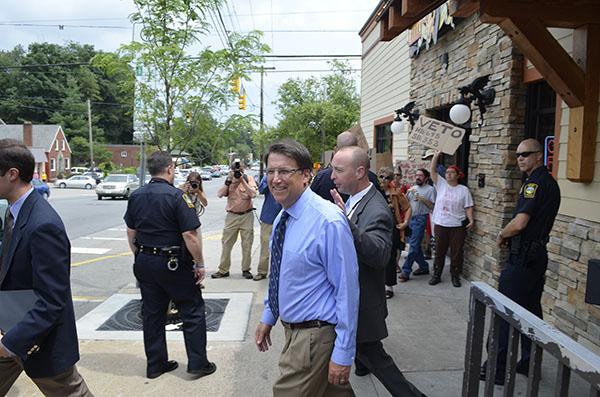 Gov. Pat McCrory was greeted by several protesters and supporters at Mellow Mushroom on King Street after speaking at the second annual Appalachian Energy Summit on Friday.
Police stood outside Mellow Mushroom as the governor was met by supporters carrying signs that read, "Welcome to Boone!" Protesters shouted "Shame!" every time they saw McCrory.
The summit was open only to registered attendees.
The former mayor of Charlotte shook hands, posed for pictures and took questions from residents and the press while stopping inside Mellow Mushroom.
McCrory said he was pleased with the energy summit, which is an annual meeting of the University of North Carolina Energy Leadership Challenge, according to sustain.appstate.edu.
"I was very impressed with the diversity of the group and it's nice to also have all the schools and universities in one room with integrated ideas and not thinking in silos," he said. "I'm going to hook up my energy policy adviser with this group as a result of that meeting. I anticipate using that group as a very important resource at developing our energy plan for North Carolina."
McCrory said the summit was a place for innovative ideas to create jobs and save money, which he said are the two goals to accomplish in North Carolina.
"We can do that through energy innovation and energy conservation," he said.
McCrory discussed plans for connectivity and transportation in areas within and bordering North Carolina. He discussed ways he wanted to create connections with education, as well.
"I want to connect Appalachian State with N.C. State and Chapel Hill and East Carolina through technology," McCrory said. "For example, if an Appalachian State student wants to take a journalism class at Carolina, then why shouldn't they? Or wants to take an engineering class through the Internet or through technology at N.C. State, why not give them that opportunity? I think we need to be more flexible in sharing resources and infrastructure and professors."
More than a dozen protesters and a handful of supporters followed the governor's vehicle down King Street as he made stops at Watsonatta Western World and Art Walk after leaving Mellow Mushroom.
Protesters held signs that criticized McCrory on voter rights, education and abortion. Junior political science major Ian O'Keefe said he marched down King Street to express some of the concerns he had with the governor.
"He made a lot of campaign promises, he posed himself as a moderate and I know a lot of people here, lots of students especially, voted for him and were proud to vote for him because of his record in Charlotte," O'Keefe said.
Town Councilman Andy Ball was among the residents and town officials who stood at Mellow Mushroom to see McCrory.
"We were honored to welcome the Gov. McCrory to Boone today," he said. "I hope the governor will work with us to address the needs of our small towns across North Carolina."
Story and Photo: MICHAEL BRAGG, Editor-in-Chief