A new kind of poetry reading was on display Sunday for community members and Appalachian State University students and faculty at 3rd Place in downtown Boone.
Grass Plates, an experimental poetry showcase, emphasizes community and hopes to have one performance each month at 3rd Place, which is home to the Presbyterian and Episcopal campus ministries of Appalachian.
The idea for Grass Plates was inspired by a class senior English major Connor Childers took this past summer. The course was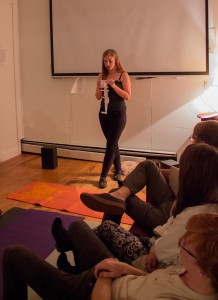 taught by Appalachian English lecturers Nathan Hauke and Kirsten Jorgenson.
"The first class [of the summer], Grass Plates came out of the classroom," said Childers, who created the event. "Our final project for our summer class focused on literary citizenship, what that means and cultivating writing communities."
From there, fellow writers in the class as well as people who had heard about it started getting involved.
Grass Plates is unique in that it differs from the usual open mic night.
"It's a selected reading," Childers said. "The past two readings we've asked people we know who we think would be a good fit for what we're trying to do here. Part of it is the community of writers, rather than the open floor. Experimental doesn't mean inaccessible."
With no formal stage, couches were pushed into the back alcove of the gallery, creating an intimate space between the writer and poet. Nine undergraduate and graduate students read poems at Sunday's event.
"If you want to join us, I think it's really important to write with us," Childers said. "We meet pretty regularly once a week and we write together and that's where a lot of the material comes from, and we're sort of in this together."
Senior middle grades education major Aaron Prestrud stumbled into reading his personal work at 3rd Place after being noticed by a Grass Plates reader on Appalachian's campus.
"I think poetry is cooler when you share it with other people," Prestrud said. "It's been a long time since I've been a part of a community where I can do that and it is great to be up on stage and getting back into writing."
Alexander Tanner, a fellow performer and sophomore creative writing and psychology major, said that Grass Plates is a much different scene from spoken word and that it offers a refreshing perspective. Tanner is also the president of the club Lyric and a slam poet in Boone.
"I don't write that much spoken word poetry, and more page-oriented poetry is what I've been invested in so this is a really good opportunity for me to show off that side," Tanner said.
Childers believes Grass Plates can now be a place for new poets.
"I think it is important to give artists a place to showcase what they've been doing," Childers said. "There's galleries around here, there are music venues for people who are expressing themselves those ways, but as far as a focused reading series that emphasizes community and experimentation, that's something that there wasn't a venue for that."
Story: Casey Suglia, Intern A&E Reporter