Health, Wellness and Safety Week educates and informs students
Wellness and Prevention Services hosted the Health, Wellness and Safety Week from Sept. 3-10, an event that started as a way to bring awareness to interpersonal violence, the importance of safety on campus, and to promote healthy lifestyles, according to the Wellness and Prevention and App Cares websites.
"This has been going on for a number of years because we wanted a fun way to educate students about the resources on and off campus right at the beginning of the school year," said Kyra Patel, the coordinator for student social wellness at Wellness and Prevention Services. 
During the weeklong event, Patel said Wellness and Prevention Services aimed to raise awareness and educate students on the services they have available to them before they are in crisis, like the Office of Sustainability and Student Health Services. 
Some of the events for the week included the 30th Annual "Walk for Awareness: Into the Light," the "Health, Wellness and Safety" Festival, the Health and Wellness Town Hall,  "Glow, Run, Dance," and a Division of Student Affairs Tailgate. 
Walk for Awareness is a silent walk through campus created to support victims of interpersonal violence. In 1989 Daniel Lee kidnapped, raped and beat Leigh Cooper Wallace, a student, and Jeni Gray, a faculty member. Lee killed Gray while Wallace was able to escape.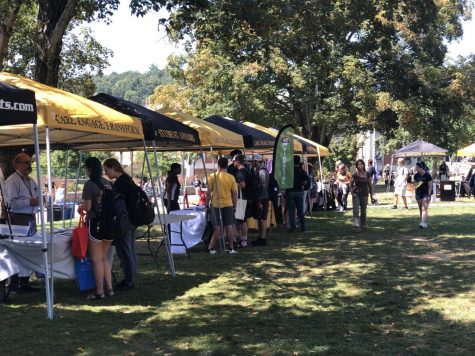 Louise Cooper, Leigh Wallace's mother, said students should be aware of their surroundings and use the safety resources available to them at App State.
 "Be aware of the struggles that people around you might be having and help those people to get the help they need," Louise Cooper said. 
Wallace's father, Claude Cooper, said Leigh credited Jeni Gray with saving her life because she discovered she had to outsmart the man. He said a lot of people would think that what happened to her would be life changing, and it was, but it did not define her. 
"She never defined herself as a victim. From the time she escaped she realized she had a second chance at life and vowed to make an impact," Claude Cooper said.
The walk on Sept. 10 began at Sanford Mall and ended at Legends. Wallace's family, including her father, sister, Julie Cooper Hodge, mother, husband, Chris Wallace, son, Jake Wallace, and daughter, Haleigh Wallace Parker, attended the walk. 
Leigh Cooper Wallace spoke at the first 10 Walk for Awareness events, but Hodge said Leigh felt she was not the right speaker for it because she did not feel like a victim anymore but a survivor.
"I feel safe on campus but it still makes me mad that (Gray and Wallace's abduction) happened and I'm glad that this school is doing this to draw awareness to it," said Lila Harry, a sophomore psychology major.
The Health, Wellness and Safety Festival showcased many different campus organizations and resources to students including AppCares, the Office of the Dean of Students, ATLAS, the First Generation Student organization, the Appalachian Spiritual Life Association, Counseling and Psychological Services, Food Services & Campus Dining, the App State Police Department and more.