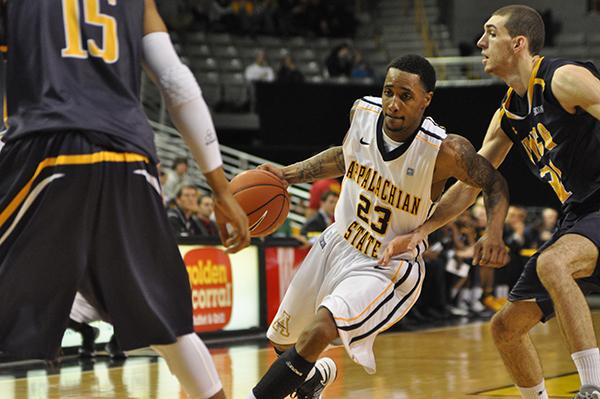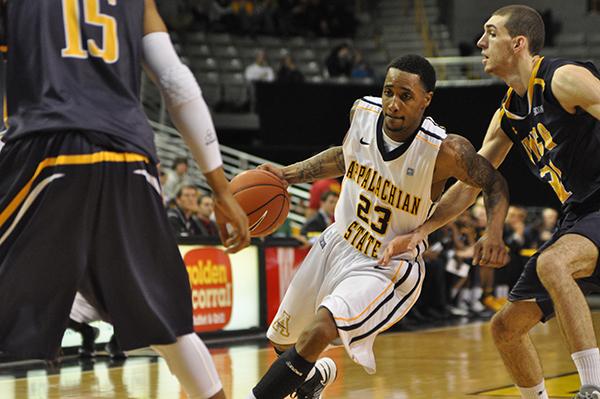 Sports fans know student athletes sacrifice holidays and shorten school breaks in order to practice and participate in games. While students were at home for winter break, Appalachian State University's women's and men's basketball teams were busy keeping up a vigorously busy schedule of four and five games respectively. Here are some highlights of the games over winter break:
Women's:
Dec. 18: at East Tennessee State University 85-57 W
Anna Freeman became the fourth all-time leading scorer in Appalachian State women's basketball history with 1,505 career points as the Mountaineers picked up a win against the Buccaneers for the fourth straight time. According to GoASU.com, the Mountaineer offense scored over 70 points in a game for the fifth time this season, while the defense produced a strong effort and held ETSU to just 57 points.
Dec. 28: at West Virginia 72-67 L
The Black and Gold had three scorers in double digits but were unable to come up with a win over another group of Mountaineers in this close game. The game was tied at 65 with 2:37 seconds left, but WVU was able to use a foul to their advantage and win the game by sinking two free throws.
Anna Freeman led the Mountaineers with 25 points in the game, followed by Maryah Sydnor, who scored 19. Katie Mallow followed close behind with 13 points, and was able to connect with three out of four three pointers. Appalachian did outscore West Virginia in the second half, 43-35.
Jan. 5: at Davidson 65-49 L
Appalachian State played a strong game against SoCon rival Davidson, but the Mountaineers were unable to pull ahead and get a win. Heading into the second half, the teams were tied at 32, but the Black and Gold defense was unable to stop the Wildcats, who outscored the Mountaineers by 16 points. Maryah Sydnor finished in double figures with 15 points on the night, leading the offensive game. Anna Freeman and Raven Gary had good games as well and were able to put up nine points for the Mountaineers. According to GoASU.com, Appalachian, who lead the SoCon in field goal percentage, shot a season low 31.7 percent from the field.
Jan. 7: at Furman 66-52 W
With the win over Furman, the Mountaineers improve to 8-3 for the season, and 2-1 in SoCon.
"We dominated a very physical team on the boards," head coach Darcie Vincent said in an interview with GoAsu.com. "We had more offensive rebounds than they did. We handled our screens well and so forth. So, to me, we needed to be physical and we were physical tonight. So, I'm really proud and happy with the way the girls played that part of the game."
Men's:
Dec. 16: at University of Missouri-Kansas City 81-71 W
Appalachian State men's basketball finally ended their a seven-game losing streak as they shot 61.9 percent in the second half, according to GoASU.com. Tevin Baskin led the charge for ASU with 18 points. This game also marked Mike Neal's season debut with four points and four assists.
Dec. 19: at South Carolina 74-69 L
In their only loss over the break, ASU lost a close game with South Carolina. Jay Canty, Nathan Healy and Neal led Appalachian in points with 16 each. Canty and Healy also grabbed seven rebounds, according to GoASU.com. The game was close until 19 seconds left when the Gamecocks finished strong, hitting their final four free throws.
Dec. 22: Presbyterian College 78-70 W
Outrebounding Presbyterian by 10 (34-24), the Mountaineers entered their eight-day holiday break with a win. Healy and Baskin once again topped the box score with 17 points and eight rebounds each.
This would prove to be a common successful trend over their current stretch. According to GoASU.com, the difference would end up being the 17-5 run ASU made over the final 3:48 to end the first half.
Dec. 30: Milligan 71-51 W
Appalachian made easy work of the Buffaloes as Nathan Healy had a career day, according to GoASU.com. His 17 points and career-high 15 rebounds kept Milligan at bay.
Canty and Tab Hamilton had 10 points each as Baskin, again, kicked in 15 points off the bench. Milligan's main downfall was their 19 turnovers.
Jan. 8: at Wofford 50-49 W
It may have been close, but ASU pulled off the win against the Terriers. It was a back and forth contest that would come down to the final play. With four seconds left in the game, Wofford's Justin Gordon dashed to make a layup but Tevin Baskin swatted it away as the time ran out, according to GoASU.com.
Forcing turnovers was key in the game as Wofford had 14 and ASU only had nine. Baskin and newly announced SoCon Player of the Week Nathan Healy led the Mountaineers again with 10 points each.
Story: KAITLYN THRUSTON, Senior Sports Reporter; ANDREW CLAUSEN, Interim Sports Editor

Photo: JUSTIN PERRY, Staff Photographer