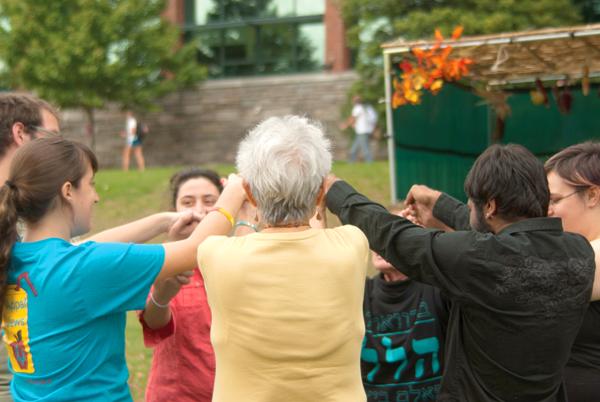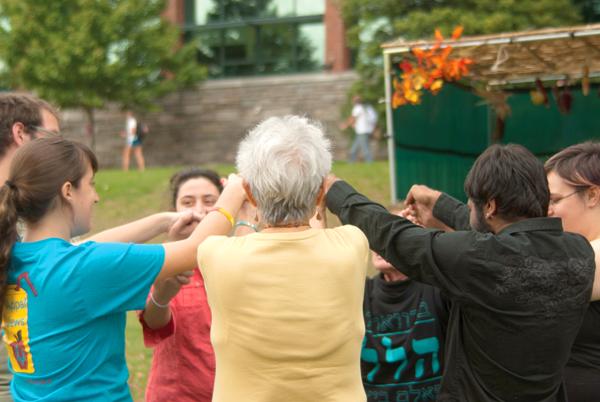 Hillel, the university's Jewish student association, celebrated the fall harvest festival of Sukkot on Sanford Mall Wednesday and Thursday.
Sukkot, which is Hebrew for "booths", is celebrated by building a hut or booth and living in it over a period of days. The event is reminiscent of the booths that the Israelites built during the Jewish Exodus.
Hillel has celebrated this holiday in past years by constructing their own booth, or sukkah, on Sanford Mall. The event which was originally scheduled to take place Monday through Wednesday but was postponed due to rain, and instead began Wednesday and was one day shorter.
Lauren Fine, junior communication studies major and president of Hillel, said that the building of the booth is one the most fun parts of the whole experience.
"We build the Sukkah as a group which is always interesting, because somehow every year we can't find the directions to build it, so we kind of wing it and that's probably the most fun," she said. "It's like this bonding where we build it together."
During the Sukkot, non-Jewish students were encouraged to take part in the activities scheduled throughout the event. And because of weather, Hillel was forced to condense these activities to two day instead of three.
On Wednesday at 3 p.m., students were led in Israeli dancing and at 5:30 hookahs were set up for anyone to smoke for free.
The four hookahs were provided by Up in Smoke.
On Thursday, pizza was provided for anyone who wanted it, since the purpose of the events is to create a sense of community between both Jewish and non-Jewish students.
"It's important for people to know that we're here and we exist and we want to share our experiences and our traditions because a lot of people have no idea about any of it," Fine said.
Through cultural activities like these, Jewish students gain a sense of identity as a small demographic in a diverse student body.
Freshman undecided major Benjamin Goldberg said he is glad he found an active group of Jewish students to associate with on Appalachian's campus.
"Hillel has had a big impact on me because I came from a very Jewish background," Goldberg said. "In finding Hillel it's allowed me to find that connection again and it's been really helpful. It's something that I've really enjoyed being involved in."
Hillel has had an impact on the non-Jewish population, as well.
Freshman computer science major Austin Mann joined Hillel during their hookah session on Wednesday.
"By getting to know [Hillel] and getting to know their culture, it increases my respect for their culture and creates this intercultural bridge between people of all different cultures," Mann said.
Story: CONNOR CHILDERS, A&E Reporter
Photo: JUSTIN PERRY, Staff Photographer