The history of Legends
In the 1970s, all of the fun for students in Boone was actually located in Blowing Rock. While the establishments surrounding the school were dry, a number of clubs, bars and dance halls just down the road attracted national recognition and regional attendance. Most notably was the live music at P.B. Scotts, one of seven popular bars at the time.
Those bars closed in 1983, when the town of Blowing Rock passed a new alcohol ordinance outlawing bars and limiting alcohol sales to package stores and full service restaurants. This move was made partially to keep rowdy students out – and it worked.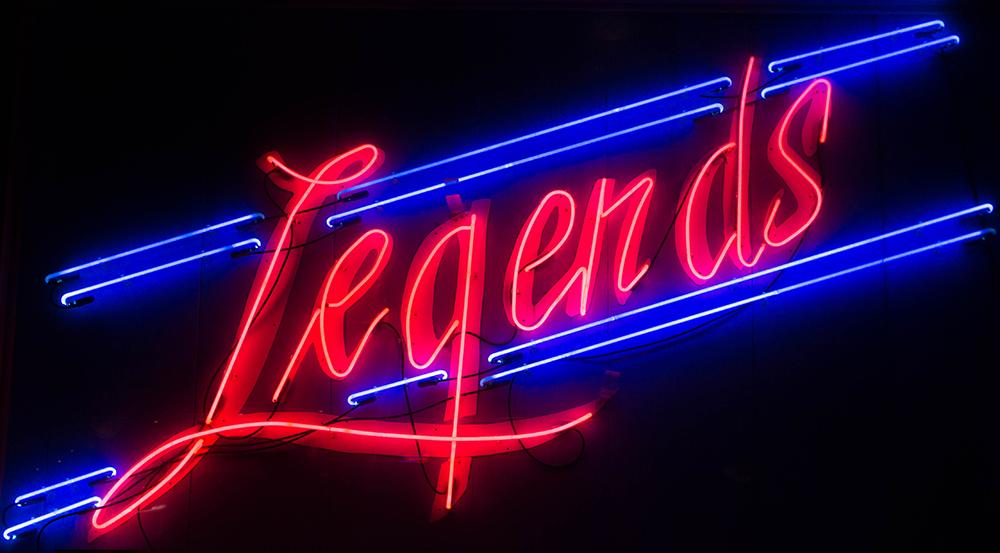 In the next year, over 700 students transferred to other universities. When the school tracked them down, they all had the same reason.
"Over 90 percent said 'We love Appalachian, we love the faculty, the classes.' They liked Boone, the change of seasons, all the reasons that people come here – but there wasn't anything to do socially," said David Robertson, director of special projects for Appalachian State University.
Dino DiBernardi, assistant director of Complementary Education at the time, now the Student Development Center currently, recognized the importance of out-of-class learning, and saw an opportunity to create something new with the old Winn-Dixie property on campus that the university had recently purchased as storage.
"Students who stay on campus and make a deep connection with the university do better academically and persist to graduation," DiBernardi said.
With some minor conversions, the site was reopened in 1985 as H'appy's, a student nightclub open with live performances six days a week, which allowed for students to bring their own beer.
Current program advisor for student programs Randy Kelly came to Appalachian after booking shows at P.B. Scotts since 1976. He had relocated to Charlotte when Appalachian came asking about the types of acts that had attracted students to Blowing Rock before his business had been shut down.
"I knew what every band was making, everywhere," Kelly said.
With his experience in the entertainment industry, he was able to get the same quality acts for much cheaper than they would usually charge for a university.
"I am the only person in the country with my exact job," Kelly said. "There is no other campus that has a 1,000 seat nightclub, run by students, that allows them to bring in their beer, and does regional and national acts every week. I'm it – I like that."
With Kelly's industry connections, Robertson founded the Appalachian Popular Programming Society later that year, placing the decisions in the hands of students.
In March of 1986, an unexpected move made H'appy's more crucial than before, when the town of Boone approved an ordinance allowing for the sale of beer, wine and spirits in the town. Students no longer had to make the trek to Blowing Rock to purchase their six-packs to tote to shows.
"It was fun creating a new program," DiBernardi said. "Student response was outstanding, we were packed every night." He remembers turning faculty and staff away when the club reached capacity in its early days, reserving the space for students above all else.
Once the 1 a.m. nights on top of his 8 a.m. job got to be too much, however, the student volunteers of APPS took on full control in staffing, advertising and brainstorming concerts.
"Our role is to advise and support students in that process," DiBernardi said. "When the university hired me, they asked me if I believed in working myself out of a job."
When money came around in 1988 in for carpeting over the original grocery store linoleum, as well as raised seating and a front of house and DJ mixing area, APPS also decided to change the name to Legends, solidifying the club as its own entity and shooting its popularity through the roof.
"We made it a first class club, and that's the difference," Kelly said. "Legends is now famous nationwide, and I'm getting emails every day from bands that want to play there because they're in Chicago and they want to stop here on their way to Florida and they've heard about us."
That said, Kelly and APPS make a point to only book acts their fellow students have heard of, and try to book bands for cheap before they explode onto the popular music scene.
One eventful month in 1994, artists Dave Matthews, Hootie and the Blowfish and Widespread Panic played Legends three weekends consecutively, with each show selling out to make the most successful run of shows in recent history. The only advertising for Hootie, Kelly said, was a paper sign saying "Hootie tickets on sale Monday" displayed while students waited in a line wrapped around the student union for Dave Matthews tickets.
Robertson notes that the usual show averages 300-400 attendees and a handful of 1,000-seat sell outs each year, which is possible mainly due to the fact that APPS does not need to make a profit off of shows – student activity fees, collected from every student's tuition, help keep prices low without scaring away big name acts.
"We are programming for college students, we aren't programming for $65,000 a year yuppies who have lots of discretionary money," Robertson said.
This year, a handful of acts have still sold out, notably Cherub in September, which sold 1,000 tickets weeks before the show, and Robertson said he is still amazed by the sheer force of APPS students as he prepares to retire at the end of this semester.
All organizers stress that students recognize the importance of their unique position – as the only college campus with a setup like this, students coming out to shows are crucial to its continued survival in the fickle entertainment industry.
"I think it was a successful experiment that worked as much because of the timing of it as because of the idea," DiBernardi said. "Its emergence happened during a perfect storm. You look for that big wave when everything comes together and you have to be in the right place at the right time. This was one of those things that made the big wave of Appalachian's success."
Story: Lovey Cooper, Senior A&E Reporter