After a troubled 2022 season, App State football returned to their roots and brought back two familiar faces to the Mountaineer sidelines.  
"When coach Clark called, it was gonna be tough to turn down," defensive coordinator Scott Sloan said about returning to the High Country. "A lot of it had to do with the first eight years."
Sloan played defensive back at Clemson from 1989-91 where he helped lead the Tigers to the 1991 Atlantic Coast Conference Championship, as well as three bowl game appearances. After hanging up the cleats, Sloan began his coaching career as a video graduate assistant at Clemson in 1992. 
He stayed with the Tigers until 1995 as a graduate assistant before serving as defensive coordinator and recruiting coordinator at Georgia Military College. In 2002, Sloan became the defensive backs coach at Georgia Southern. Following four seasons with the Eagles, Sloan turned to the high school ranks, coaching at Griffin High School and Riverside Military Academy in Georgia. 
"He has coordinated successful defense with multiple programs, and he will instill a tough, sound, disciplined approach for our defense moving forward," head coach Shawn Clark said.
App State first hired Sloan in 2010 as secondary coach. After his first season with the Black and Gold, Sloan became recruiting coordinator in addition to his responsibilities as secondary coach. In 2017, Sloan was elevated to co-defensive coordinator. During the 2017 season, seven Mountaineer defensive players received All-Sun Belt Honors and captured the program's second Sun Belt title.
Sloan returned to Georgia Southern in 2018 as defensive coordinator and safeties coach. The 2020 Eagles led the nation in interceptions with 18, and ranked 14th in total defense. In 2022, Sloan coached at Army West Point as co-defensive coordinator and safeties coach. 
Sloan returns to High Country following Dale Jones' departure following the 2022 campaign. Last season, the Mountaineer defense allowed 347 yards of offense and over 33 points per game to Sun Belt opponents.
"He prioritizes us to run to the football, playing with a high motor and everybody doing their job," redshirt senior linebacker Andrew Parker Jr. said. "At the end of the day, it's about getting the guy on the ground and getting the ball back to the offense."
Sloan inherits a defense looking to bounce back off a disappointing season where they struggled to get off the field on third down.
"They want to be coached, they want to be led, they want to be pointed in the right direction and anything we asked of them this spring they really responded to," Sloan said. "Just really impressed with where they are as far as a mental standpoint."
Offensive coordinator and quarterbacks coach Frank Ponce spent last season as quarterbacks coach at Miami before returning to Boone.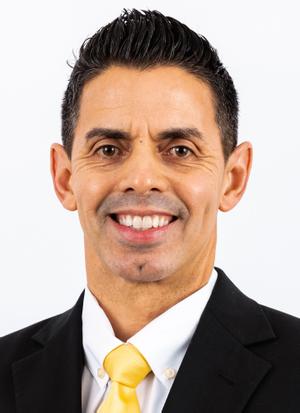 "I'm truly excited to be back on the mountain," Ponce said. "Boone holds many wonderful memories and moments for me, and I'm thrilled to have the opportunity to make more."
Ponce steps in as former offensive coordinator Kevin Barbay accepted the same position at Mississippi State.
Ponce played quarterback from 1989-90 at Arizona Western College prior to entering the coaching ranks. His first opportunity came at La Progresiva Presbyterian High School in Miami. 
Ponce coached at the high school level in various roles from 1992-2006, and in 2007 he got his first college coaching position as wide receivers coach at Florida International University. During his six seasons with the Golden Panthers, Ponce coached six of the top 10 receivers in school history, including four-time NFL Pro Bowler T.Y. Hilton. 
"Frank's resume speaks for itself, and he knows what it takes to win championships at App State," Clark said. "I'm glad to have him back directing our offense and quarterback room."
Ponce began his first tenure with the university in 2013, when he joined the staff as co-offensive coordinator, passing game coordinator and quarterbacks coach under former head coach Scott Satterfield.
From 2019-20, Ponce served as passing game coordinator and quarterbacks coach at the University of Louisville after Satterfield accepted the head coaching position. In 2021, Ponce returned for his second stint with the Mountaineers as offensive coordinator and quarterbacks coach. After departing for a season, Ponce rejoined the staff in January.
"I love Boone," Ponce said. "Miami is home, Boone is home, so I'm home away from home."
Ponce returns to an offense loaded with talent across the board. Junior running back Nate Noel was named to preseason watchlists for the Doak Walker Award for the nation's best running back, the Maxwell Award for most outstanding player in college football and the Reese's Senior Bowl. Offensive lineman Bucky Williams and Isaiah Helms were named to Outland Trophy watchlist for most outstanding interior offensive or defensive lineman. 
"The kids here at App State are phenomenal," Ponce said. "They don't care as long as we win."