Homecoming blood drive collects more than 1,200 pints
The eighth annual Homecoming Blood Drive collected 1,265 pints of blood in the Holmes Convocation Center on Wednesday.
The event, organized by Appalachian and the Community Together and sponsored by the American Red Cross, lasted 11 hours in total, beginning at 8 a.m.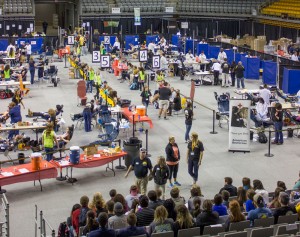 Bess Smith, an ACT blood drive committee member said the blood drive is growing with time. Though, ACT collected 1,317 pints of blood last year.
"This year we didn't have as many people sign up before, but we had way more walk-ins," Smith said. "We're having a lot of word-of-mouth, which is really exciting."
Smith said one pint can save three adult lives or six babies, which translates to a total of 3,795 adult lives or 7,590 babies saved by the blood collected during the 2014 drive.
"I think it's important to give blood because it's a really easy thing," Smith said. "It's kind of a small impact on your life but it can be a big impact on someone else's life."
ACT member Karson Collins was diagnosed with an autoimmune disorder this past summer and needed blood after getting sick. She said it allowed her to return to school for the fall semester.
"I don't think anybody ever thinks they're going to need blood, or somebody they know is going to need blood," Collins said. "You never think you're going to be that person."
Junior psychology major Moriah McTavish said she was donating blood because she hopes someone would do the same for her.
"If I needed blood, I'd hope there was someone out there who would be able to give it to me," McTavish said.
Story: Thomas Culkin, Intern News Reporter