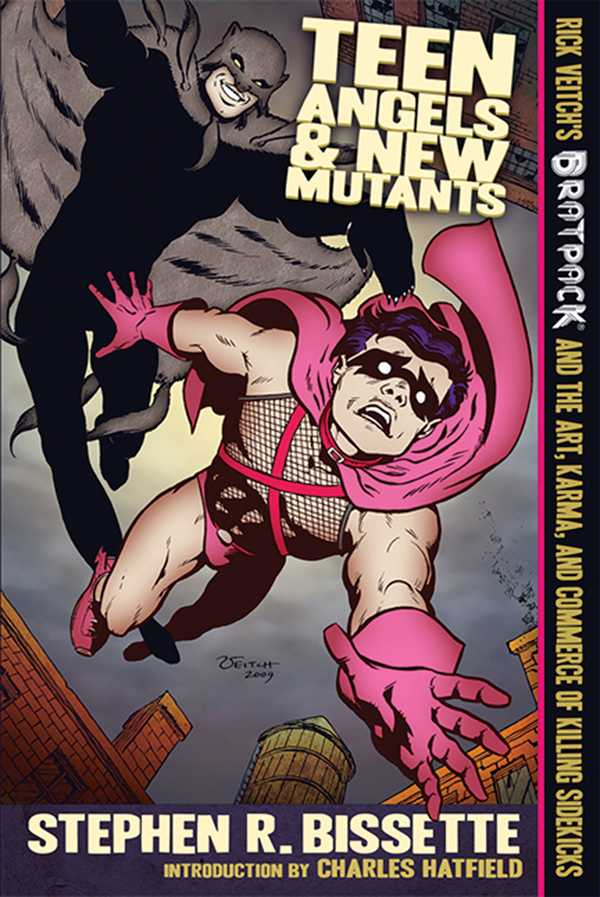 A new edition of fear arrives in Boone on Thursday with eerie inking and terror on the silver screen, thanks to visiting comic book writer Stephen R. Bissette.
A connoisseur of the macabre, Bissette has been writing and drawing horror comics since the mid-1970s. He is the second writer featured in this year's Hughlene Bostian Frank Visiting Writers Series.
Bissette, a Vermont native and resident, visits Boone on Thursday and Friday and will be talking, showing films and signing copies of his new book, "Teen Angels and New Mutants" in the Table Rock Room of Plemmons Student Union.
"Bissette was chosen because he is cutting edge, one of those at the very top of his field," said Joseph Bathanti, who heads the committee that chooses which writers come to campus.
Bathanti is also a professor in the Department of English and was named North Carolina's Poet Laureate in 2012 by Gov. Bev Purdue.
Like every visiting writer, Bissette will, in part, be promoting his new book, but as a professor himself, his other goal with the visiting writers series is to teach his craft to young people.
"Thursday, I'll be talking about my approach to telling stories through comics – why monsters are important to me and why I draw them," Bissette said.
He plans to show the 1960s films "The Dutchman" and "Night of the Living Dead" back-to-back Friday and discuss their significances to the horror genre.
Bissette began his career in 1974 working as a pencil artist for "Swamp Thing" under writer Alan Moore, who later became famous for comics such as "Watchmen" and "V for Vendetta."
"We were the first American artists he worked with," Bissette said.
After a few years, he decided run-of-the-mill horror wasn't enough, and he wanted to expand his talents. Bissette and the pen artist of "Swamp Thing" met a Canadian publisher who told them he loved their work. So much, in fact, that he would publish whatever they wanted to make next.
The two-man team received content from all over the world to be compiled into the goriest, most disturbing comic series they could imagine. From that they created the series "Taboo."
"We got busted by every English-speaking country in the world," Bissette said. "We couldn't ship into England for a while. I was smuggling copies of 'Taboo' into Canada so I could give copies to the artists who worked on it. It was a risky time to publish stuff like that."
By the time Bissette was producing "Taboo" solo, things settled down and he was able to distribute comics without repercussions, partly because of the decline of the comic industry, Bissette said.
"Everything has changed so dramatically," he said. "I grew up in the backwoods of Vermont and I could bicycle to three or four places and get comic books."
Now, he said, it is difficult to find comics anywhere.
"A lot of kids back in the day, if they didn't read anything they read comic books," said Mark Hayes, who used to own Warehouse Comix & Things on Old Highway 421 in the mid-1990s. "Film industry has taken hold of the innovative ideas."
Hayes sold the store 10 years ago.
However, comic book fans nowadays sing a different, more optimistic tune.
"It's the paranoia of the death of print media," senior Francophone studies major Jordan Barger said. "Instead of the big stores with millions of comic books and CDs, it goes straight to the source – the audience who wants it. There's a lot more opportunity in the Information Age."
He maintains that comics are not a dying craft, but rather they have evolved into an underground art that is not part of the mainstream.
"Look at Comic Con," Barger said. "It is thriving more than it ever has."
The Hughlene Bostian Frank Visiting Writers series will continue next month when author Toi Derricotte visits Appalachian on Oct. 3.
Story: EMMA SPECKMAN, A&E Reporter
Photo courtesy of Stephen R. Bissette