From Griffin, Georgia to Boone, Jordan Favors has proven his title as a star safety. 
Favors originated from Griffin High School where he earned 5A Region 2 Athlete of the Year. Griffin Bears head coach, Kareem Reid, noticed him early and utilized Favors on offense and defense. During his junior year, Favors picked off three passes, totaled 43 tackles and rushed for 128 yards in 30 attempts. 
Additionally, Favors was a star shortstop and left fielder in highschool and played for numerous All-Star and travel teams. 
"I grew closer to football as I got older," Favors said.
In his senior year, Favors improved and averaged 8.2 yards per carry, along with 616 rushing yards and five touchdowns. 
Favors had to make the decision of where to play college football. After receiving multiple offers, head coach Shawn Clark talked about why the university chose him to be a part of their Mountaineer family. 
"He came from a great family, and it was important to his parents that he get a degree and continue being a great football player," Clark said. "When we had him on campus, we knew he was our kind of guy."
In 2021, Favors' true freshman season, he decided to redshirt, causing him to withhold playing to elongate his eligibility. Favors found his footing in his redshirt freshman year, totaling three solo tackles against The Citadel, Robert Morris and Old Dominion.  
"Jordan is a shining light," Clark said. "He comes to work with a smile on his face and he is always looking to improve himself as a person and a football player and he embodies what an Appalachian State football player is meant to be."
Favors respected App State football's philosophy and fell in love with the programs offered. He plans on obtaining a masters degree in communications. 
"There's a correlation between guys who make good grades and good football players," Clark said. "You have to be able to translate from the classroom to the field but it starts in the classroom."
In being a key player on the Mountaineer football team, there comes some obstacles. Favors touched on the importance of mental health as an athlete and the effect on athletic abilities. 
"Once you find a certain level of confidence to overcome; you rise," Favors said.
While playing alongside veteran safeties Nick Ross and EJ Jackson, you have to stand out. Ross is a fifth-year senior from Marietta, Georgia. He talked about what makes Favors such a key player. 
"His natural instinct is amazing, and his speed is unmatchable," Ross said. 
From his redshirt freshman to sophomore year as a Mountaineer, Favors turned up the heat. With three total tackles in his redshirt freshman season, Favors towered over that number with 28 total tackles in his sophomore season. 
To highlight his 2023 season, Favors had three passes defended, one forced fumble and an interception in the Sept. 19 ECU game. Against Marshall Nov. 4, Favors recorded two interceptions.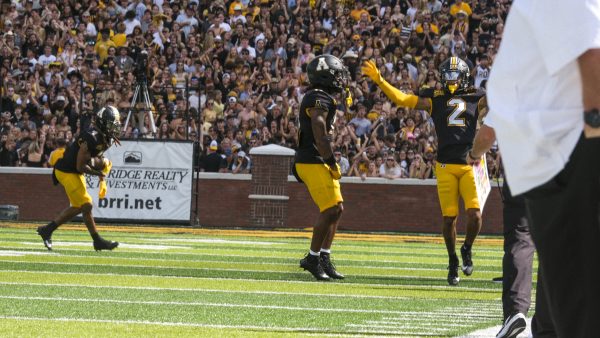 Favors talked about the makings of a successful athlete and flourishing on the field. 
"Take the game slow," Favors said. "What you don't admire is that the best thing about reaching a goal is a journey to it." 
Although Favors didn't earn his star title until this season, he continues to be recognized as a talented and strong individual on and off the field. During camp he worked hard and developed gifted skills to create a legacy here at App State. 
"He is a dog, he lifts more than some of the linebackers and is probably top five fastest on the team," Ross said. 
Leadership is an influential characteristic that is implemented in all athletes and Clark shared his thoughts on what leadership is and how Favors embodies that. 
"Leadership is a quality that we all need, especially when you get to tough times," Clark said. "The way he comes to work and studies the game and wants to do good for Appalachian, makes him special." 
Favors continues to persevere and improve daily. His dedication to the game shows on the field. Favors touched on his most memorable win in App State football history. 
"It would be Troy just because it was so unexpected and just a thrill of emotion," Favors said. "Everybody just ran to the field, it was wonderful, man."
It is clear Favors has more in store for the Mountaineers and will continue to move forward and flourish under the bright lights. 
"I plan on leaving a legacy here," Favors said.