Judicial candidates tour Boone
Judge John Tyson, running for the North Carolina Court of Appeals, and Judge Eric Levinson, running for Associate Justice on the Supreme Court of North Carolina, visited and toured Boone on Friday in hopes of creating awareness and encouraging registered voters to vote in the current election.
Boone was only one of 19 cities and towns the candidates visited, ranging from Wilmington to Waynesville in a matter of only five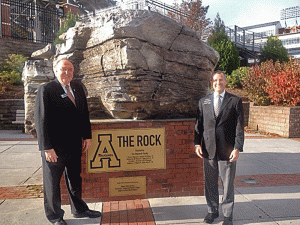 days. The tour began on Oct. 20 and wrapped up Oct. 24.
Students and staff of Appalachian State University have joined the effort this year to try to get more people to register and vote after the university's on-campus polling site was returned to Plemmons Student Union after being removed by the State Board of Elections in the past.
Tyson said it was estimated that a little more than 3 million of North Carolina's 6 million citizens registered to vote would actually proceed to do so. North Carolina has a total population of more than 9.5 million people according to the 2013 United States Census Bureau.
Levison said being good citizens means being informed about what is happening in the community and he believes college students should be engaged and involved with organizations, participating in leadership, public policy and political efforts.
"Public leaders listen to college students," Levinson said. "What's happening on the campus of [Appalachian] matters."
Tyson said it is vital that people vote and there is absolutely no reason or excuse that students shouldn't be voting because the information is available free and instantly. Levinson added that as candidates, they do their best to meet voters halfway.
All political candidates have their own websites explaining their credentials and promises, as well as 4.5 million voter guides sent to every registered voter's household with information on each of the candidates.
"People are interested this year and people are following the campaigns more than we've seen in years past," Levinson said. "North Carolina is not unique. It's a nationwide phenomenon."
The Court of Appeals and Associate Justice both serve eight year terms and may be re-elected by a nonpartisan election.
Tyson said the main duty of an appellate judge is to review the record for errors brought to them from the losing party or the administrative agency – not to retry the case.
"Our two most senior judges are retiring, so there's a lot of experience leaving the court and some of the folks that are running have no appellate judicial experience at all," Tyson said.
After hearing the news of the current judges' retirements, Tyson immediately got calls from supporters and friends telling him he needed to run for the seat. He resigned from the Ethics Commission shortly after and filed as a candidate for the Court of Appeals.
As an Associate Justice, Levinson said a fair judge must be open-minded, not bringing in any particular policy agendas, not prejudging the case or issue, and that the court should remain above the public or political divide.
"I'm running because I care about getting it right," Levinson said. "Frankly, my career has been about trying to create better court systems that are transparent and I care about this court system as much as I did back in 1996 when I first became a judge."
Levinson said all types of issues the Supreme Court touches on, big or small, have an effect on the daily lives of citizens.
"Social media has changed politics [and] it's changed campaigns in North Carolina, but there is no substitute for reaching out and shaking someone's hand," Levinson said. "There's no substitute for looking someone square in the face and saying, 'I hope you will have faith in me as a candidate,' and so that's what we're doing and we're having fun."
Story: Chamian Cruz, Intern News Reporter