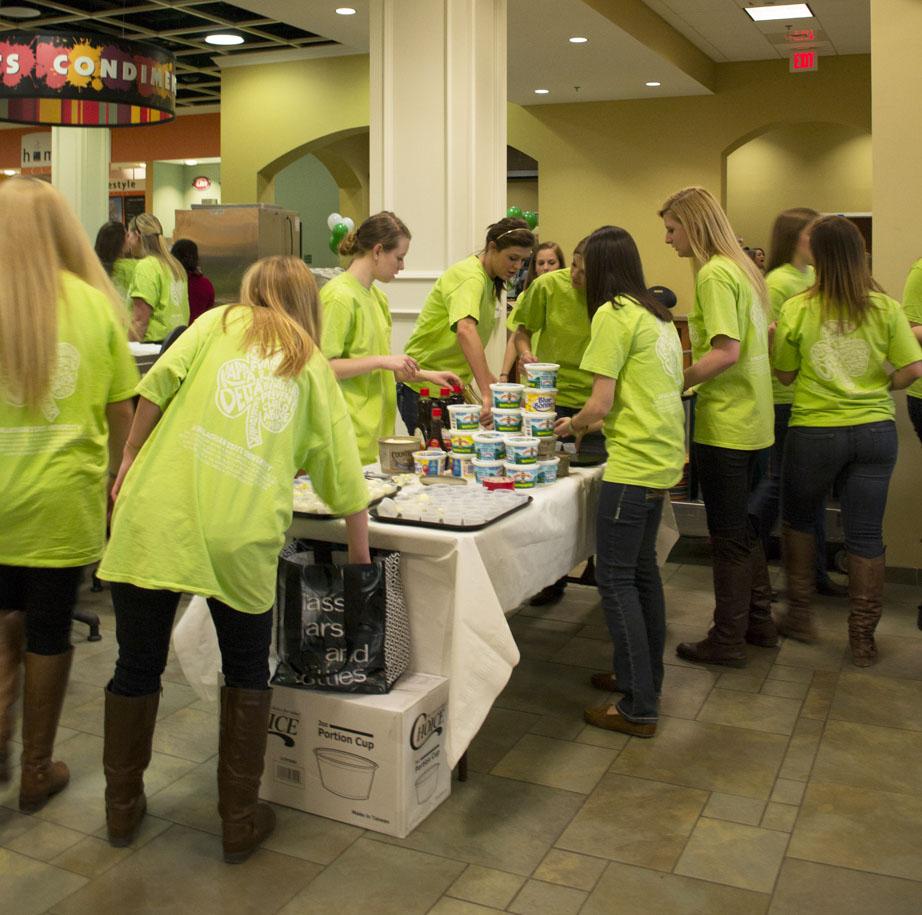 Kappa Delta hosted 1,800 guests at its 21st annual Shamrock Pancake Dinner on Friday at Central Dining Hall.
The event benefits the Children's Council of Watauga County and Prevent Child Abuse America.
Junior Kellie Mitchum, who was in charge of the event, said the total amount raised at the dinner is expected to be higher than the previous year.
"The numbers won't be final for a couple more weeks as money is still coming in," Mitchum said. "We do not have a concrete number as of now, but we do know we are well on our way of exceeding last years $14,000."
Mitchum said the final amount raised won't be know for up to two weeks when the sorority submits a proceeds remittence report to Kappa Delta National Headquarters.
"I wish I [knew the amount], the suspense is killing me," Mitchum said.
Eighty percent of the funds raised benefited the Children's Council of Watauga County and 20 percent went toward Prevent Child Abuse America, Mitchum said.
"Although it represents Kappa Delta, we are doing this for the Children's Council and to prevent child abuse," she said.
Employees at Central Dining Hall made 3,600 pancakes for the dinner. They used three griddles, 300 pounds of pancake mix and nearly 1,000 eggs to accommodate the crowd.
Mitchum said planning started in September when she booked Central Dining Hall for the event. She created committees to be in charge of decorations, fundraising and T-shirts.
The Pancake Dinner is the longest running philanthropy on Appalachian State University's campus, Mitchum said.
"People come together for this event," Mitchum said. "It's like a big party."
Sarah Casella, a sophomore and Kappa Delta sister, said she loved the energy people had for the event.
"I hope everyone had as much fun as we did," Casella said.
There were performances by a live DJ and a capella groups Higher Ground and Ear Candy, and a pancake-eating contest with Domino's pizza as a prize.
Sophomore Mike Moret won the contest.
"The smell of pancakes seemed to follow me everywhere that night," Moret said. "It was so much fun. The Kappa Delta's did a fantastic job putting it all together."
Story: NATASHA BOSTOK, Intern News Reporter
Photo: ANSLEY COHEN, Intern Photographer