Late-night Central hours, Chick-fil-A breakfast possible
The Student Government Association and Appalachian Food Services are currently discussing the possibility of late-night dining being instated in Central Dining Hall and the chance of Chick-fil-A breakfast being an option for students.
"SGA is trying to meet student requests for both," Alyssa Frizzelle, SGA director of Student Affairs, said. "We've heard a lot of students mention these in the past few years and so we really wanted to take a step to try and address their concerns."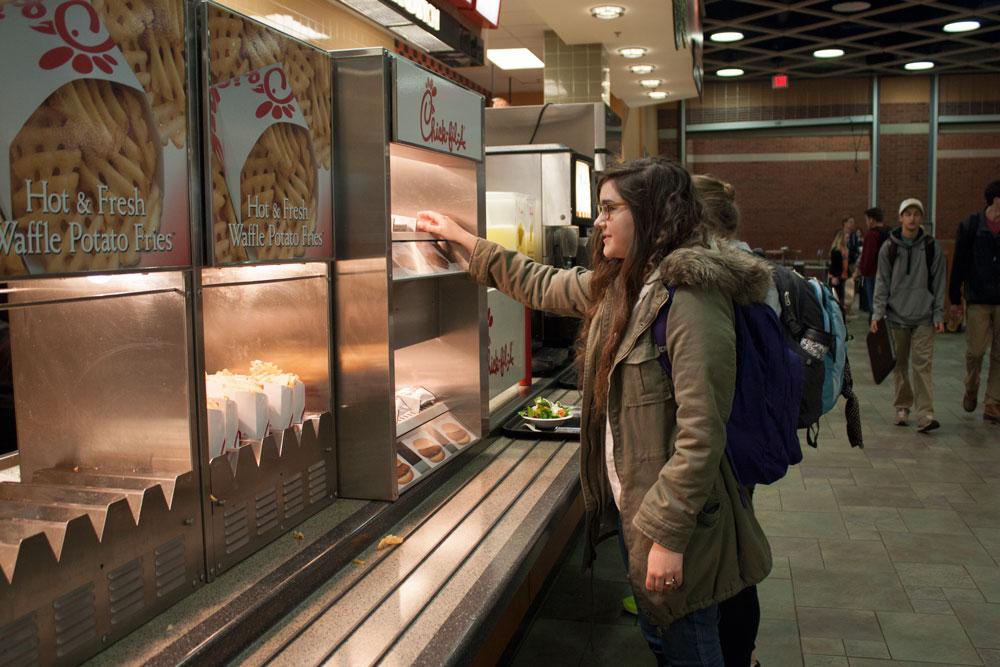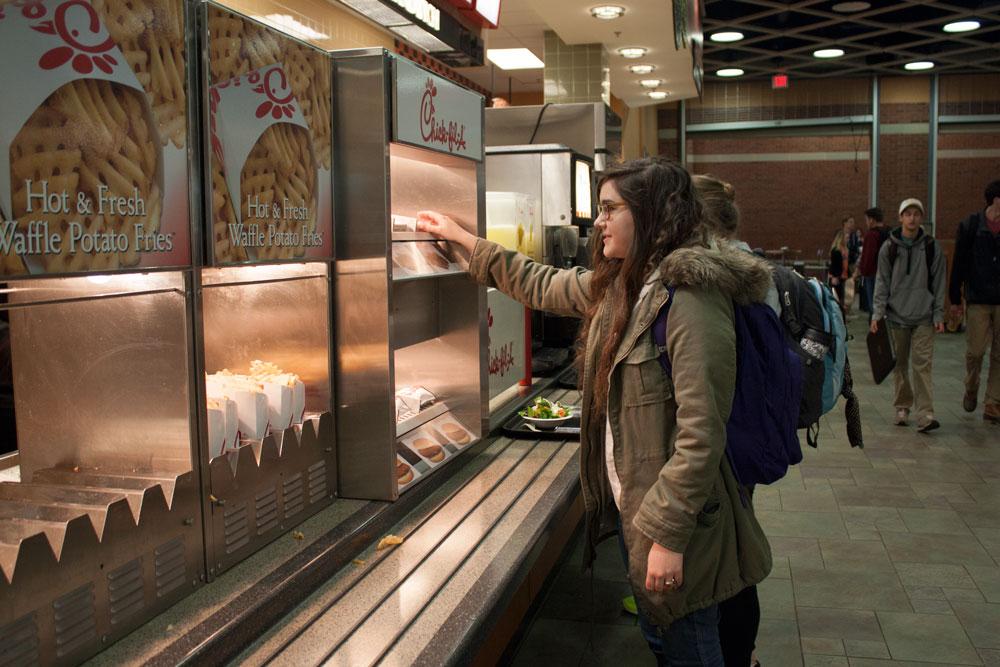 SGA President Dylan Russell said SGA is interested in late-night dining hours to coincide with the new 24/5 library hours.
Other motivations to make these changes include keeping university dining services competitive with other UNC system schools and peer institutions, Frizzelle said.
The operating hours for late-night dining have not been defined yet, Frizzelle said.
"Because we are still so early in researching the late-night dining option, we can't say for sure [what hours may be]," she said. "From the surveys completed we have seen an interest in hours lasting until 1 or 2 a.m., on weekends particularly."
Art Kessler, the director of Food Services, said late-night dining brings up multiple problems such as security issues, waste and cost.
"It is very expensive, late-night dining would have to be done at the students' expense because that's where the funds come from to run dining services," he said. "We would have to raise the cost of meal plans."
It is unknown at this time how much the cost of meal plans would have to increase to cover late-night dining and Chick-fil-A breakfast, Kessler said.
The university used to operate the dining halls until 2 a.m., but did away with it after students underutilized the service.
"It has been at least 10 years since we've stayed open that late," Kessler said. "The students said it was something they wanted, but we didn't have the [student] support to keep it that way."
Ram's Head Dining Hall at UNC Chapel Hill stays open until 11:59 p.m. The latest operating time is for the campus' Wendy's and Alpine Bagel restaurants, which are open until midnight, according to dining.unc.edu.
Western Carolina University's dining hall is open until 2 a.m. Thursday through Sunday.
Currently, Central Dining Hall closes at 10:30 p.m. every day.
As for Chick-fil-A breakfast, Kessler does not believe the benefit outweighs the cost.
"We have spoken to other campuses that offer Chick-fil-A breakfast, such as UNC Chapel Hill, and they had to do away with it because of the massive [food] waste," he said. "Students did not support it, there was not an increase in breakfast sales."
For these dining hall possibilities to become a reality there must be support from the student body that shows they would take advantage of these options, Kessler said.
A survey currently being administered by SGA asks students how they would feel about these options becoming available to them.
"For both late-night dining and Chick-fil-A breakfasts to become a reality we really need a large base of student interest via our surveys," Frizzelle said. "More than anything, we need to prove that students will use these services and that the revenues added from them will exceed the costs so as to continue the services without forcing Food Services to operate at a loss."
Kessler said the odds of these changes happening in the dining hall look pretty slim unless support is shown.
"Dining Services along with SGA will be making the final decision on this, but we need proof from SGA because we want money spent well," he said. "We have the lowest price standard meal plan in the UNC system and that's something we are very proud of."
Story: Nicole Caporaso, News Reporter
Photo: Rachel Krauza, Senior Photographer