Late scores lead App State past Coastal Carolina
In its second-lowest scoring game of the year, the App State football team earned bowl eligibility for the fourth straight season after defeating the Coastal Carolina Chanticleers 23-7.
The win improves the Mountaineers' overall record to 6-2 and their Sun Belt record to 4-1. App State remains undefeated against the Chanticleers all-time with a record of 5-0 and are now 1-0 at Brooks Stadium.
"I thought our guys came out really business-like," head coach Scott Satterfield said. "In pregame you could just sense it. There wasn't a lot of hoopla and talking."
Redshirt sophomore quarterback Jacob Huesman made his debut as a starter against the Chanticleers as regular starter redshirt sophomore Zac Thomas remains out under concussion protocol. Huesman finished the day 9-19 in passing attempts for 127 yards and a touchdown, a 33-yard pass to redshirt sophomore receiver Corey Sutton.
"I thought he played pretty good overall," Satterfield said. "He did some good things in the running game, threw a nice touchdown pass to Corey (Sutton). For his first start, he's 1-0, I told him, 'There's a lot of great quarterbacks that didn't start 1-0.'"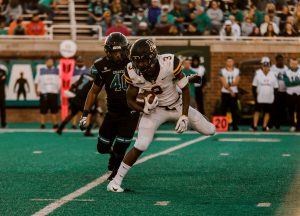 Redshirt sophomore running backs Darrynton Evans and Marcus Williams, Jr. shared the bulk of the rushing attack against Coastal Carolina, Evans leading the way with 160 yards and a touchdown on 25 carries. Williams rushed for 100 yards and a touchdown on 18 carries, the most yards he's had in a game all season.
"At the beginning of the game, we both told ourselves, 'Hey
, let's try and both get 100 (yards) this game,'" Evans said. "It really takes the load off of me and takes the load off him."
Junior linebacker Jordan Fehr led the Mountaineers on defense, grabbing eight tackles, 3.5 tackles for losses and three sacks. This is the first time App State has had a player with three sacks in a single game since former Mountaineer Eric Boggs did in 2015. Because Coastal Carolina's seven points came from a "pick-six" interception, App State's defense shut out the Chanticleers offense.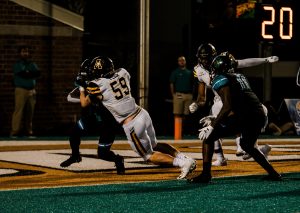 "We had a lot of good opportunities up front today to kind of expose their offense line," Fehr said. "Our biggest thing is get into that backfield and it starts up front so I was happy I was able to do that."
This is the Mountaineers' second Sun Belt road win this season and the second of three straight Sun Belt road games on App State's schedule. With Georgia Southern's Nov. 3 loss to Louisiana-Monroe, the possibility of the Mountaineers playing in the Sun Belt Conference championship game increases.
"There's four weeks left and anything can happen in four weeks," Satterfield said. "I think if we just worry about Appalachian State football and take care of our business, then we'll have an opportunity at the end of the season."
App State gets back in action on Nov. 10 on the road against Texas State, their last regular season away game of the year, before coming back to Boone to finish out their schedule at home.
Story By: Brooks Maynard, Sports Editor
Photos By: Vince Fortea, Staff Photographer