On Friday, Nov. 18 a group calling itself AppState Leaks publicly shared a survey conducted by the Faculty Senate that aimed to probe the campus climate on key issues.
Paul Gates, Faculty Senate Chair, said the survey was meant to be circulated internally and that faculty were instructed to not copy or share the contents.
The survey was conducted on a voluntary basis and had a response rate of 55 percent.
When asked if faculty trust the administration 37 percent of respondents indicated they somewhat disagree and 19 percent indicated they strongly disagreed.
Faculty also overwhelmingly indicated that administration should be more transparent with decision making, with 48 percent strongly agreeing with that statement and 31 percent somewhat agreeing.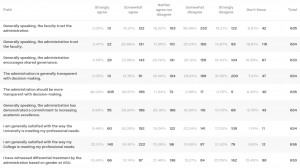 The survey also pointed to a difference in what faculty believe administrative priorities currently are and what they believe they should be. Respondents rated the top three administrative priorities as being athletics, university image and increasing enrollment.
When asked what they believed the university's priorities should be respondents rated increasing academic excellence, increasing salaries and benefits and increasing teaching resources highest.
Responses also indicated the administration was appropriately prioritizing diversity and 59 percent of respondents said they would like to continue the university's current balance of teaching and research.
On a question about the bias incident reporting system 57 percent of faculty indicated they were either somewhat or extremely unfavorable. In September a hearing on the bias incident reporting system was held where several faculty members expressed concerns about the anonymous nature of the system.
Of the respondents to the survey 70 percent indicated they were either tenured or tenure track faculty. The highest response rates came from faculty that have either been at the university for less than two years or have been on staff for six to ten years.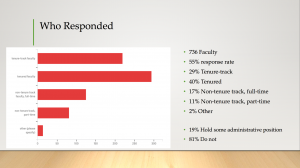 AppState leaks said via an emailed statement they decided to come forward with the survey to facilitate transparency and plan to continue leaking information they consider relevant in the future.
Story by: Sammy Hanf, News Editor