Lewis, Meadors finish freshman seasons, continue to mature
Second-year head coach Scott Satterfield's recruiting success has started to take shape in the form of two wide receivers who just finished their freshman seasons.
Isaiah Lewis and Shaedon Meadors, who both hail from South Carolina, helped the Mountaineers this season by combining for 379 yards and four touchdowns.
Lewis – who caught 13 passes for 92 yards and a touchdown while appearing in all 12 of App State's games this season – said adjusting to life as a college receiver comes with its fair share of nervous feelings.
"Coming in as a freshman, I just wanted to prove to the coaches that I could play and to show them what I could do," Lewis said. "I have definitely gotten more comfortable after each game. When I ran my first route at Michigan, I was a little shaky because I didn't know what to expect."
Former App State wide receivers coach Justin Stepp, a native of Pelion, South Carolina, played an important role in recruiting Lewis and Meadors out of high school.
Stepp said the young receivers are exactly the type of weapons that can make a difference on the field.
"They are both learning the offense and both are bringing an explosiveness and speed factor that we haven't had here in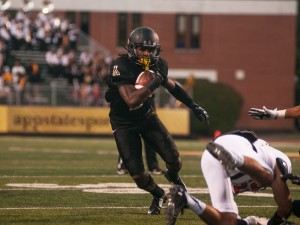 a while which makes them very good players," Stepp said. "They were both highly recruited out of high school – they are major division one players and we are very lucky to have them here."
Lewis came to App State rated as a two-star prospect by www.247Sports.com and www.Rivals.com. However, Meadors came to App State as a three-star prospect, according to the same entities.
Lewis played his high school ball at Hillcrest High School while Meadors played his prep ball at Byrnes High School.
Both players led their respective teams deep in South Carolina's high school playoffs. Meadors led Byrnes to the 4A state championship game as a senior after amassing 1,864 yards with 33 touchdowns on 85 catches. Lewis led Hillcrest to the 4A state quarterfinals during his senior year while catching 38 passes for 528 yards and eight touchdowns.
Both players knew each other during their high school athletic careers as they both were selected to participate in the 2013 Shrine Bowl for South Carolina. Before Lewis' high school switched conferences, his junior varsity basketball team played against Byrnes, which also featured Meadors.
"We both played seven-on-seven against each other and played together in the Shrine Bowl so we have a history of playing together," Meadors said. "[Lewis] was the only one who could guard me or try to guard me on that team. We're close."
Lewis' one receiving touchdown on the season came in App State's 47-21 loss at home to South Alabama in October. Meadors' first touchdown came in the first game he played in a close 55-48 home loss to Liberty.
The second for Meadors came in a dramatic win against three-time Sun Belt Conference defending champion Arkansas State.
After sophomore running back Marcus Cox fumbled in the end zone the Mountaineers found themselves down 20-6. On their next offensive possession with four seconds left before halftime freshman quarterback Taylor Lamb connected on a 24-yard pass to Meadors who went up for a spectacular one-handed touchdown catch to start App State's 31-point run en route to their fifth victory of the season.
Lewis said the chemistry he and Meadors share is comparable to former App State receivers Tony Washington and Andrew Peacock.
"It kind of makes me think of Tony Washington and Andrew Peacock as to how they were playing and how we are," Lewis said. "We are close enough to where we can talk to each other and help each other during play. The first time I met Shaedon is when we played basketball against each other in ninth grade and we talked junk to each other."
One of Meadors' season highlights came with a jaw-dropping one-handed catch in App State's 31-29 home win against ULM. The catch was initially ruled a touchdown but was later reviewed and reversed as Meadors knee was down at the one-yard line. The aerobatic catch was number three on ESPN's SportsCenter "Top 10 plays of the day".
Meadors said he knew he had a chance to snag the ball when he saw it coming.
"I practice a little bit with one hand," Meadors said. "I knew that there was a possibility that I could catch the ball. It just stuck."
Stepp said after solid freshman campaigns, the receivers can now start working on fine-tuning other aspects of their games as they mature as players.
"They are still learning how to play the game at this level," Stepp said. "It takes a lot more than running the routes and catching the football. They have to learn how to block full speed each play. Those guys are going to be hard to stop."
A confident Lewis said he and Meadors are looking forward to continuing to prove themselves on the field for the rest of their careers.
"Just know that next year, [the Sun Belt] better watch out," Lewis said. "Me and my boy Meadors are coming for them."
Story: Bryant Barbery, Sports Reporter