LIPS, OASIS help survivors
A box in the Women's Center in Plemmons Student Union is collecting items for a feminine hygiene drive, now through the end of the fall semester.
Melanie Weast, the graduate assistant for the Women's Center, said the donation collection is through LIPS, a female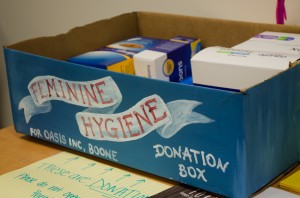 expressions of sexuality club, which is utilizing the Women's Center space, since LIPS does not have one of its own.
LIPS will give donations to OASIS, a non-profit organization that provides services to survivors of domestic violence and sexual assault in Watauga and Avery counties, said Marcie Ownbey, OASIS' outreach coordinator.
OASIS stands for "opposing abuse with service, information and shelter," and provides services such as a confidential emergency shelter, crisis counseling, support groups, safety planning and educational programs.
Items needed include feminine hygiene products and medicines like ibuprofen and Midol.
Ownbey said OASIS is always in need of those items, but also others, as many clients leave their situations abruptly or in an emergency.
"We are always in need of tampons and maxi pads, that's a big need we have, but also new bras and new underwear in all sizes, toiletry items like shampoo and conditioners and gas cards are really important to try to help clients get to appointments and to apply for jobs," she said. "We know a lot of clients who come to us and they left their homes and their situations, and they are starting over with very little or nothing."
"We've got three boxes of tampons and two of pads so far," she said. "And the Women's Center has a bunch of boxes we're donating also when it's over."
Ownbey said partnership with Appalachian and the Women's Center is not uncommon.
"I believe that for this specific effort, they contacted us in saying they're interested in helping out," she said. "We partner with them in various things, we get interns from them, and we're in touch with them often."
Story: Nicole Caporaso, Senior News Reporter
Photo: Morgan Cook, Photo Editor