Martin Luther King Day celebrated with the 20th annual MLK Challenge
App State and Appalachian and The Community Together celebrated the 20th anniversary of the MLK Challenge with participants gathering to honor his legacy through a day of service and reflection on Jan. 21.
Associate Director of Cental Operations in Student Affairs Jennifer Koehn adopted the MLK Challenge and started it at App State. The committee for this year's event consisted of students, graduate students and the faculty adviser, Macki Snyder.
"It's well known around the community and campus so it's able to benefit both students and nonprofits around the community," committee chair for the MLK Challenge junior management major Rachael Beller said.
Volunteers served at sites around Boone including Hospitality House, F.A.R.M. Cafe and elementary schools. Forms of service included deep cleaning, organizing, painting and landscaping.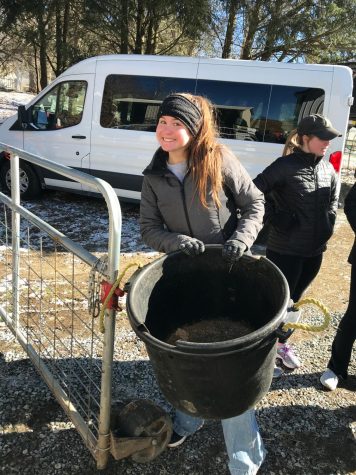 "We always say it is all part of the challenge. If we get there and something is wrong or we have to change plans, we say to go with it," Beller said. "We're there to serve and help in whatever capacity we can."
University Highlands gives ACT a $2,000 grant each year. One-thousand dollars of it went toward giving a free gift bag to those who participate. The remaining money went toward what ACT calls the "bonus challenge."
The bonus challenge this year was a school supply drive for Blowing Rock School. Each group was given $40 to buy school supplies. The groups had to find deals and get the most supplies for their money.
"In today's society, it is making that connection of the work that's been done in the past with civil rights engagement, and taking that in today's society and letting students know that there are still needs in the community that need to be met," Beller said.
Legislation signed in 1983 made it so Martin Luther King Jr.'s birthday was recognized as a federal holiday. In 1984, Congress designated the holiday as a national day of service.
Congress' overall mission was: "The intention was for a day on, not a day off. As well as empowering individuals, strengthening communities, bridging barriers, and creating solutions to social problems."
The last event will be a silent auction on Jan. 31.  The auction benefits App Builds A Home, which is part of the Watauga Habitat for Humanity Organization.
App Builds A Home is a mission to build an extra home for a family in Watauga County. The silent auction will be in the Outreach Center in the ACT office.