Maya Angelou spends an evening with App State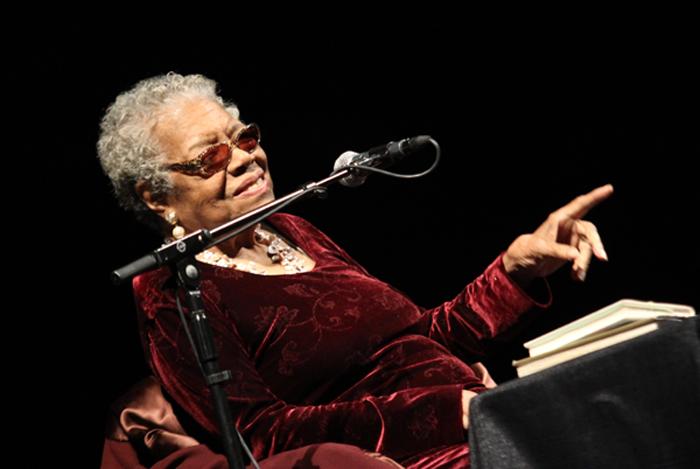 Historian, poet, author and civil rights activist Maya Angelou spoke at a packed Holmes Convocation Center on Tuesday as part of the 29th Annual Dr. Martin Luther King Jr. Commemoration.
Students, faculty, staff and visitors started filling the center at 6 p.m. to "An Evening with Maya Angelou."
Angelou took the stage dressed in a red velvet dress, flower necklace and rose-colored glasses, guided in her wheelchair by a family member.
She began her keynote speech with a metaphor about hope, and maintained a balance of anecdotal humor and serious dialogue throughout her discussion of race and women's rights.
Vice Chancellor of Student Development Cindy Wallace began the event around 7:15 p.m. with a short dissertation on the value of celebrating the legacy of Dr. King.
"He has become the pillar of our absolute moral consciousness in this country," Wallace said. "And she [Angelou] is our touch to that through-line."
The Rev. Reggie Hunt of Cornerstone Summit Church spoke and led the audience in prayer, followed by the ASU Gospel Choir's performance of famous songs, such as "Lift Every Voice" and "Wade In The Water," while a collective of musicians played and the ASU Dance Ensemble performed an interpretive dance.
To introduce Angelou, the sisters of Alpha Kappa Alpha sorority each read a stanza of Angelou's poem "Phenomenal Woman."
The power and responsibility of the youth was a running theme throughout Angelou's speech.
When you have children of our own, she said, it is your duty to "help to liberate them from the binds and bonds and chains of ignorance."
Throughout her speech, Angelou offered the audience snippets of advice, interwoven with lines of poetry and vignettes of her life.
Several times throughout the speech the audience stood up to applaud a line or roared a cheer of approval. In a segment about race, she spoke about a time she walked out of her office to make a point on her first day with 20th Century Fox.
"Do not sit in the company of people who use racial pejoratives," she warned. "But, I encourage you before you get up and walk out, just make sure you have the keys to your car."
The audience laughed at jokes such as that one, but she also spoke to the audience about the dark years of her youth after her mother's boyfriend raped her. He was beaten to death the day he was released from jail and the experience caused her to quit speaking to anyone besides her brother for years.
"I thought that my voice could kill people," she said.
It was during those years that Angelou said she began to read poetry and form an emotional connection with poets such as Shakespeare, James Milton Jr. and Edgar Allan Poe.
Poetry taught her that the human condition is a shared condition, regardless of race or creed or gender, she said.
"I thought Shakespeare – he's got to be a black man – a black girl, actually," she said. "How else could he know how it is to be scorned? You need poetry to tell you you're just right, that you're better than you think you are."
At the end of the speech, Angelou sang and recited a few poems, including the one she wrote for the United Nations.
Story: EMMA SPECKMAN, Senior A&E Reporter
Photo: PAUL HECKERT. Photo Editor