Following last week's annual showcase, interdisciplinary dance club Momentum has high hopes for the rest of the semester, said Kaitlyn Curran, club president and a senior English and secondary education major.
Momentum will host weekly, open dance workshops this year and classes with visiting choreographers, in addition to social events and fundraisers.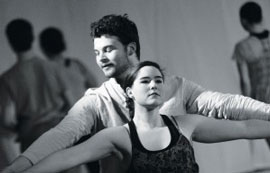 The club already has three events planned for the next month alone, which is more than the club has had for entire semesters in the past.
Momentum hosts its annual showcase as a way to share the love of dance with the community and to create more opportunities for dancers and others in the department, Curran said.
Curran has been involved with Momentum since taking part in the showcase her freshman year.
The showcase usually serves as an initial starting point into performing at the university. For some non-majors and new students in previous years, the showcase has been their only opportunity.
"After the showcase, most people outside of the department – like me – are not dancing anymore," said Jordan Shilling, sophomore advertising major and open class coordinator for the club. "[These additional events are] a way to still do something every week."
Shilling joined the club as a way to get involved with dance on campus without taking classes through the university.
Most opportunities through the Department of Theatre and Dancelimit participation not only to majors, but to those majors with specific availability and skill level.
On the other hand, Momentum's activities are not limited by major, ability, age or style.
"Momentum is about bringing together all sorts of dancers," said Christina Henderson, another open class coordinator for the club. "We have so many dance clubs on campus and so many talented people."
The club spends no money on instructors for its open workshops, which offer instruction from professors, students and visiting artists in styles and skills as varied as modern jazz to flash composition.
Volunteers said they do it for the sense of community, Shilling said. The classes hosted by volunteers sometimes incorporate visiting acts, such as last week's social improvised dance jam with members of the visiting River North Dance Chicago.
The Department of Theatre and Dance contribute heavily to the club's activities, as an opportunity to build interest in dance on campus and create a body of dance enthusiasts.
"The department has been a huge help with everything we've ever done," Curran said. "While we technically aren't associated with a specific major, we are always included in departmental events, and they have always been great with helping us plan events and bringing in guest artists."
Momentum's next open class is Friday at 1 p.m. in Varsity Gym, Studio 208.
Story by Lovey Cooper, Senior A&E Reporter
Photo by Paul Heckert, Photo Editor