Every year, athletes and coaches of all kinds support breast cancer awareness through pink accessories and attire, but pink is much more than just a color. Every athlete and coach has a story behind their efforts. 
According to the National Breast Cancer Foundation, currently 13% of Americans have breast cancer. This means one in eight women and around 500 men were diagnosed with breast cancer in 2022. To combat cancer, Susan G. Koman has raised nearly $1.1 billion in breast cancer research since 1982, per their website, and provides more than $220,000 in financial assistance and support. 
Major sports leagues along with college athletics have all taken part in breast cancer awareness, which includes raising money through donations or simply wearing pink on the field or court.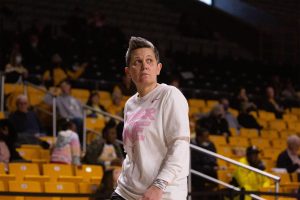 App State women's basketball head coach Angel Elderkin shared her story dealing with cancer, and the best memories she had while battling the disease. Throughout her journey, she experienced resilience and inspiration from her team, highlighted by former guard Joi Jones hitting a "truly amazing" game-winning buzzer beater against East Tennessee State in 2016.
"They gave me a reason to keep moving when things got tough," Elderkin said.
A cancer survivor herself, Elderkin shared the awareness she hopes to bring to the community around her as well as what she is doing to get other athletics to participate in spreading awareness.
"The more attention to breast cancer we create, the closer we will be to finding a cure. We need to continue to find ways to fight," Elderkin said.
Play4Kay is an opportunity to help others battling through this disease. This is the largest fundraising initiative, which was originally created for Hall of Fame head coach Kay Yow, who passed away from cancer in 2009.
Elderkin has been in support of Play4Kay and she reiterated this organization has done a lot of work to bring awareness by finding many creative ways to raise money for more than 10 years. 
The annual Chuck-A-Duck tradition has also been a big support in her life and an organization she continues to stand with. Rubber ducks are sold every year in support of breast cancer awareness and attendees are allowed to chuck their ducks on the court at halftime.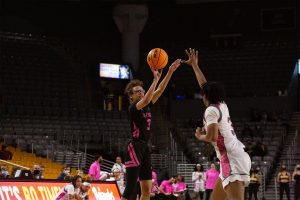 "This tradition will be continuing for many years," Elderkin said. 
Elderkin's perspective as a cancer survivor changed her ideas and outlook when it comes to cancer awareness. 
 "The biggest perspective for me was that no one fights alone," Elderkin said. "I was so grateful for all of the support from our App State community and basketball community, and want to make sure that anyone who has been diagnosed has support and a team to fight with."
On the football field, junior kicker Michael Hughes is making a difference off the field for breast cancer awareness. 
Before Hughes was born, his grandmother died of breast cancer, which is why he began spreading awareness. Growing up in Charleston, West Virginia, his parents raised him to be a giver and willing to help those around him. 
"Don't be all about yourself, be about the people in your community," Hughes said. "Be about the people in the world."
In taking advantage of his college football platform, Hughes connected with Tyler Jordon, CEO and founder of Champsraise. Jordon created Champsraise as a platform for fans of college and professional athletes to donate under their name to someone in need. 
Hughes launched a crowdfunding campaign on June 15 to help fellow West Virginia native, Sa'Quaia Walker. She was diagnosed with Stage 2 breast cancer at 29 in 2021, and progressed to Stage 3 within a week. Walker underwent 14 cycles of chemotherapy and 30 radiation treatments. Unexpectedly on June 10, Walker was informed her diagnosis had progressed to Stage 4. 
Donna DeHart, executive director of the West Virginia Breast Health Initiative, signed Walker up on Champsraise for the Fans in Need program. 
Once Hughes heard of Walker's story, he was committed to helping her.
"The overall mission is just to give them support as much as someone can, and that was my goal from the start, was just being able to support her as much as I can," Hughes said on supporting Walker on WVBHI.
Hughes surprised Walker over the phone with the news and shared her reaction on Instagram. 
"It was a really heartfelt moment, especially for me because you always want to touch people like that," Hughes said. "Being able to have that phone call and keep myself together, that was one of the hardest things I've ever done in my life."
Since the announcement, Hughes and Walker wanted to sit down face-to-face.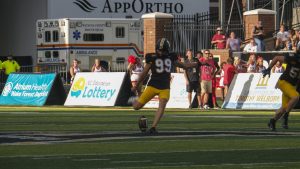 "It just makes me feel good to know that with everything crazy going on in the world that there's still really good, kind-hearted people out there that just care about making a difference, and he's a doll baby, I can't wait to meet him," Walker said.
Before fall camp started, Hughes traveled home to West Virginia to meet Walker and her son for the first time. They all sat down and talked for nearly two hours. 
"When you're there in person, and you're seeing someone who's a fighter, who's strong, who's an independent woman, who provides for her family, that's something special," Hughes said. "Especially when she's fighting for herself at the same time. So being able to see that side of her, but also the other side where she's loving and can still joke around and have a laugh even when she's got all these things going on."
Since meeting before fall camp and with the App State football season underway, Walker surprised Hughes with the news in early September that her scans came back clean and cancer-free.
From athletes to coaches personally affected by cancer, they all share one common goal: spreading awareness and eliminating all cancer.