Mountaineer men's basketball begins Fox era with first practice
App State men's basketball officially began prepping for the upcoming season with its first organized practice Saturday.
Previously, the Mountaineers had been limited to two hours of court time per week due to NCAA rules.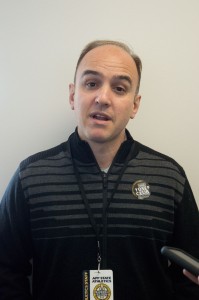 The practice also marks the beginning of a new era in Boone as the practice was the team's first under new head coach Jim Fox.
Fox downplayed the relevance of the day choosing to focus on the excitement of the new season and a day-to-day approach.
"We're thrilled to get going and it's an exciting time of the year," Fox said. "I'm really emphasizing to the guys the way they have to take one day at a time, one practice at a time and not look forward too much."
The hiring of Fox brings changes to the offensive and defensive system, however, players are buying into Fox's new system.
"It's a little different," senior guard Tab Hamilton said. "He has his own system that he wants to run. Everyone's accepting their role and attacking each position to get better at it."
Hamilton said under Fox, the team is focusing fine tuning the fundamentals, such as being tough with the ball, rebounding and sprinting the floor.
Senior forward Tommy Spagnolo said Fox is introducing more flow and freedom into the offensive game plan.
"Last year we were pretty slow and we would come down the floor and run plays," Spagnolo said. "This year I think we'll have a little more flow [to the offense]."
Fox said he was very pleased with how his team has picked up the new system and risen to meet his expectations in the early going.
"I can't be prouder of what they've been doing and we still have a lot of work to do," Fox said. "They understand that, and I just want them to get a little better each day."
Story: Ben Cogsdale, Sports Reporter
Photo: Malik Rahili, Visual Managing Editor