Mountaineers follow Cox to victory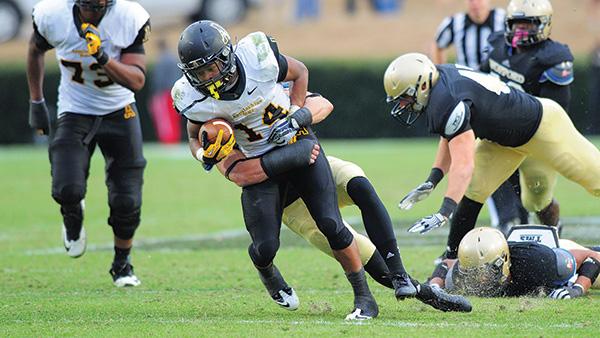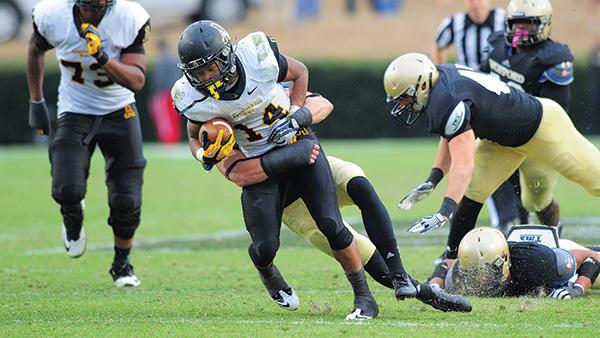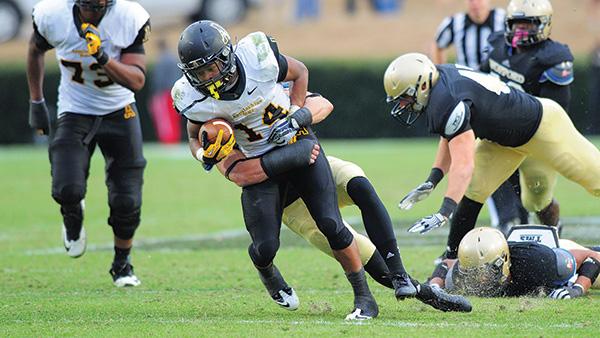 The Mountaineers rode a strong second-half performance on their way to a 33-21 win over Wofford in Spartanburg, S.C., on Saturday.
In the win, freshman running back Marcus Cox rushed for 119 yards and 3 touchdowns and was named SoCon Freshman of the Week for the fifth time this season, tying the university record.
Senior wide receiver Andrew Peacock, who hauled in 7 receptions for 54 yards, became App State's all-time leader in receptions.
The first half was a back-and-forth affair that started with an opening-drive touchdown when redshirt sophomore quarterback Kameron Bryant hit senior wide receiver Tony Washington for a 14-yard touchdown connection less than five minutes into the first quarter.
Minutes later, senior Wofford running back Donovan Johnson put the Terriers on the board with a 6-yard touchdown run.
The tie was broken in the second quarter, however, when sophomore fullback Johnny Martin pounded in a touchdown from 2 yards out for the Terriers.
A 20-yard field goal for App State from senior placekicker Drew Stewart would round out the first half scoring. The Mountaineers (3-8, 3-4 SoCon) trailed at halftime 10-14.
In the second half, Cox showed why he has been the recipient of multiple SoCon freshman accolades. After a one-yard Cox run and another Stewart field goal put the Mountaineers up 20-14, Cox added two fourth quarter touchdowns from 3 and 2 yards out to extend the App State lead to a comfortable 33-14.
In the final three minutes of the game, freshman running back Lorenzo Long rushed for a touchdown from 1 yard out, but it was too little, too late for the Terriers (5-5, 4-3 SoCon).
Bryant completed 33 of 43 passes for 305 yards and a touchdown.
Washington passed the century mark on the day, grabbing 9 passes for 138 yards and a touchdown.
Big days from key offensive players coupled with a strong advantage in time of possession helped the Mountaineers find their third win, all coming against SoCon opponents.
The Mountaineers controlled the ball for 37 minutes, compared to 23 minutes for the Terriers.
App State will now focus their attention on Western Carolina,
The Catamounts will visit Boone on Saturday for the regular season finale. Kickoff is set for 3:30 p.m.
Story: CORY SPIERS, Opinion Editor
Photo courtesy of Keith Cline