Mountaineers get chewed up by Bulldogs, lose in overtime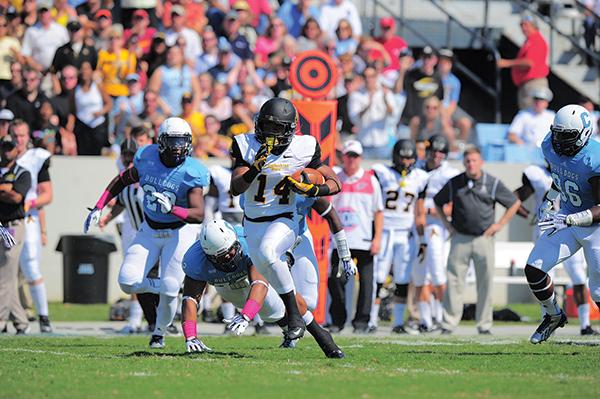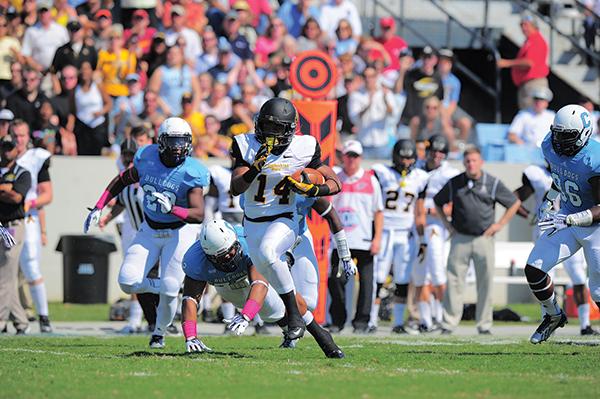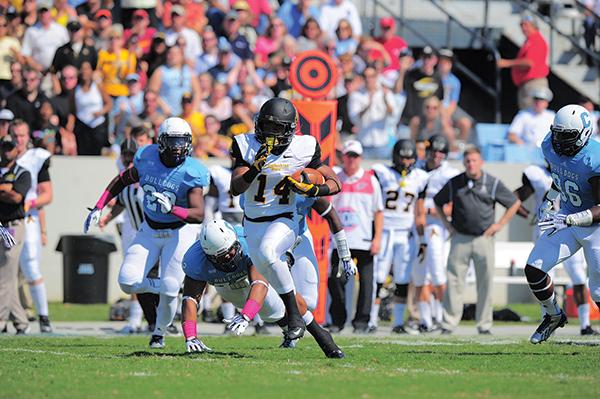 For the 10th time in program history, Appalachian State football went to overtime.
However, the Mountaineers lost in a close battle to The Citadel, 31-28.
The Mountaineers (1-4, 1-1 SoCon) have now lost three straight three-point-or-less games. The only previous time this has happened was in 1952 when the team lost 14-12 at Lenoir-Rhyne, 3-0 to Catawba and 22-19 to East Carolina, according to appstatesports.com.
The game came down to the final minutes of both regulation and overtime.
The Citadel (2-4, 2-2 SoCon) led 28-21 with 1:19 to go in the fourth quarter when App State drove the ball 79 yards to tie the game on a two-yard touchdown run by redshirt sophomore quarterback Kameron Bryant with only 20 seconds left, sending the game to overtime.
The Mountaineers received the ball first and lined up to take first blood. After being unsuccessful in the first two plays, the team faced a third and eight from The Citadel 11-yard line.
Bryant slung a pass toward sophomore wide receiver Sean Price, but the ball was deflected up into the air and fell in the hands of Bulldog defensive lineman Mitchell Jeter.
App State was able to keep the Bulldogs out of the endzone, but after four plays, all The Citadel had to do was kick a field goal and win the game.
Place kicker Thomas Warren stepped out onto the field and hit a low, ugly attempt from the 35-yard line. Somehow, it was still able to find its way to through the uprights and The Citadel walked off the field victorious.
The game marked the first career start for Bryant, who made the most of his opportunities and went 19-23 for 214 yards and one interception. He also netted 43 rushing yards on the day.
Jamal Londry-Jackson also played, but in a limited capacity as he only went 1-4 for -1 yards.
His 23-game start streak also came to an end.
Freshman running back Marcus Cox added another great game to his already impressive season. He ran for 98 yards, had two touchdowns and had 95 receiving yards, leading App State in all categories.
He now leads the SoCon with a conference-best 10 total touchdowns for the season.
Tony Washington and Andrew Peacock were second and third on the all-purpose yards list, having 86 and 48 yards, respectively.
Defensively, inside linebackers freshman John Law and senior Karl Anderson led the way with seven tackles each, including a forced fumble for Law.
Redshirted freshmen defensive back Alex Gray and defensive tackle Darian Small also had good outings defensively as they recorded six total tackles each.
This was Small's first career start.
App State's next game is Saturday against Samford at 3:30 p.m. for Homecoming 2013.
Story: Andrew Clausen, Sports Editor
Photo courtesy of Keith Cline